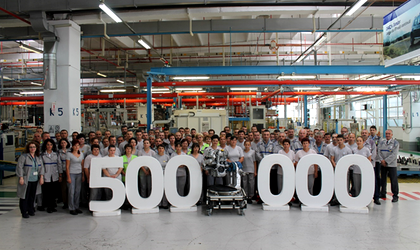 Dacia Mechanical and Chassis plant has produced until July 2015 500,000 Energy TCe 90 engines, announced the company.
Currently, the Energy TCe 90 engines produced at the Mioveni Dacia plant are equipped on Dacia models (Logan, Logan MCV, Sandero and Sandero Stepway), but also on Renault cars (Clio IV, Twingo). Approximately 80 percent of production was delivered to export. This engine model is also manufactured in the Renault plant in Valladolid, Spain.
"The Energy TCe 90 engine is one that our team is proud of. It is an engine manufactured in Romania: a large number of its integrated parts (the crankcase distribution, the cylinder head cover, the bearing cover, the flywheel and crankshaft) are produced in our Dacia plant. The Mioveni plant was the first plant in the group worldwide, producing this engine since July 2012. The production line is adapted for a capacity of 450,000 units per year," said Philippe Nottez, director of the plant.
Spread over an area of ​​18 hectares, the Mechanical and Chasis plant is the second one located on the industrial platform in Mioveni (next to the Dacia Automotive Assembly plant) and the first mechanical plant of the group in the world in terms of diversity processes. The plant has 3,900 employees, of which 27 percent are women.
The Dacia plant posted a turnover of RON 18.8 billion (EUR 4.23 billion) and a net profit of RON 371.6 million (EUR 83.68 million) in 2014. With over 14,000 employees, the company has been on an ascending trend financially for years.
Natalia Martian
Romania is a land of contrast. Business Review helps you make sense of Romania.
Is there something that puzzles you about our country? You might also be interested in this.