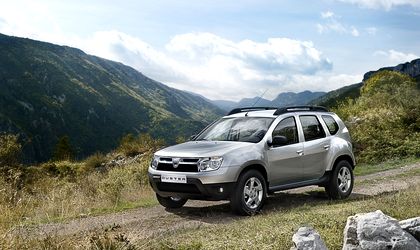 On August 20, 1968, the first Dacia-labelled automobile left the production lines of the factory at Mioveni, Arges County, while today, after 45 years, the output of the Dacia automobile maker is nearing 5 million units.
According to Agerpres newswire, data with Dacia show an end-2012 output of 4.585 million units. The production capacity is 350,000 cars a year, while statistics with the Association of Romania's Automobile Makers and Importers reveal Q1 2012 production figures of 63,735 Dacia Dusters, 62,957 Dacia Sanderos and 54, 227 Dacia Logans.
Dacia has manufactured 1.959 million automobiles of the 1300/1310 make and its hunchback and sport derivatives; 319,000 pick-ups; 38,000 Novas; 60,00 SuperNovas; 79,000 Solenzas and nearly 2.3 million Logans, Sanderos and Dusters.
According to the source, the business of the Dacia Factory and the Mioveni logistics platform generated 7.7 per cent of Romania's 2012 exports, placing Dacia first among the exporting companies of the country. In 2012, 93 per cent of Dacia Automobile Factory's output was bound for exportation.
At the same time, nearly 70 per cent of the output of the Mechanical and Chassis Factory is also bound for exportation to Renault Group companies. Over 7.5 million cubic metres of spare parts have been bound for exportation via the Dacia Logistics Directorate since 2005.
Oana Vasiliu