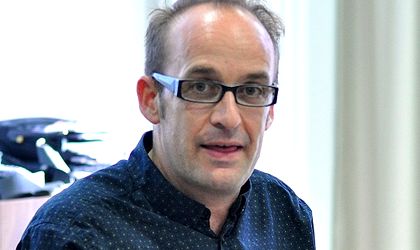 Edgar Garcia Casellas, director of business development with the Catalan Institute for Cultural Companies, tells Business Review about the financial mechanisms the organization is deploying to support local initiatives in the creative industries and the state of the cultural sector in the region overall. The institute is tasked with promoting the development of Catalonia's cultural industry and provides support to firms in all associated areas.
By Simona Fodor
How would you characterize the state of entrepreneurship in Catalonia, and in Spain in general?
I would say the Catalan region has always had a very entrepreneurial mentality. However, the crisis, the economic recession that we have seen since 2008, has given importance again to entrepreneurs in general. I think there is a new wave of entrepreneurs, and it is a combination of the digital shift that poses the challenge of trying to find new business models that are sustainable in this new digital environment, and a technology-based economy.
Cultural and creative entrepreneurs in general have an important role to play in the economic recovery, especially if they find a way to bring added value to other companies working in Catalonia. I think this is a key factor.
Can you give some examples of cultural and creative companies that have brought added value in this way?
Designers are a typical example: the way a designer or a design agency help better shape the production processes of a more industrial company.
Another, rarer, example: a contemporary dancer was helping a jewelry company to better design their women's jewelry, bracelets, necklaces and earrings, so they really have the best movement, shape and design when wearing them.
In Barcelona we have the multimedia music festival called Sónar and the Primavera Sound Festival. These are two of the main drivers of the Barcelona economy because they bring lots of people from abroad, they are growing and growing and therefore generating employment in all kinds of surrounding services. But these are the other examples: how can a good cultural offer create a good economic impact.
How is Catalonia's creative and cultural sector performing economically?
The culture and creative sector in Catalonia accounts for around 3 percent of GDP. There are about 40,000 companies registered in these sectors, which employ over 160,000 people.
The biggest proportion of these firms are publishing companies. Then comes the audio-visual sector, although it is still a bit too dependent on public subsidies and financial support, especially with the crisis. There is a lot going on with our entire music industry and Barcelona is a very important stop on European tours. There are also many plays: Catalan theaters sell over 2.5 million tickets a year. That gives an annual turnover of EUR 30 million, which is quite significant, but we have to be careful there because the Spanish government raised VAT from 8 to 21 percent last year.
Furthermore, especially around Barcelona, there are all these clusters of ICT-based companies which are very much linked to audio-visual and media. Media and advertising play an important part in the cultural and creative economy.
What is the role of the public sector in financing the creative industries in Catalonia?
We [e.n. The Catalan Institute for Cultural Companies] have been giving grants for years, especially in the 80s, 90s and early 2000s. But we are changing the model. We are trying to provoke a mentality shift within the cultural sector.
We're trying to make businesses in this sector more sustainable. We provide training courses to improve their management and business skills.
We are also introducing new financing models. We work with loans, from the Catalan Institute of Finance, at a low interest rate, paid back over seven or eight years. We are now working with participatory loans for the first time in a project to support the emergence of gaming and digital services.
But one of our most successful mechanisms is what we call repayable contributions. It finances projects according to their cash-flow needs. It is about assuring cultural businesses in Catalonia that we share the risk with them.
The loan must be reimbursed, but only according to its exploitation life cycle. And the grant, given as a loan at the beginning, is only repayable if the project makes a profit, when it passes breakeven point. If it doesn't, then the grant will stay as a grant. So the loan will be repaid but not the grant.
We've been providing EUR 3-5 million a year to companies.
And this, we feel, is a very good mechanism for cultural companies to change mentalities, to gain more and more financial independence from public subsidies and to move from this grant-scheme to the financial-scheme.
Which sectors are the most active in attracting financing?
Performing arts, music and publishing use this method a lot. Especially publishing, because people in this field really understand and appreciate the good conditions we are offering in comparison with banks; publishers know that we share the risk.
How do you select the projects?
We are open to any project. It can be a production, an international tour, or just the distribution of a project which you might not own but you are paying someone for the IP rights. We would consider music festivals, the editing of books, but we do conduct a viability analysis. We look at the track record, we ask for guarantees, we do an economic analysis, and if this is fine then we go in.