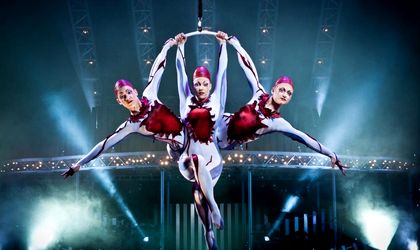 Ready to set up your agendas for the cultural events of 2015?
January
Concert Thomas Anders
January 24, Sala Palatului
The former Modern Talking member will perform for a local audience hits such as You're my Heart, You're my Soul, Cheri, Cheri Lady, Sexy Sexy Lover, You are not Alone, No face, no Name, no Number, Brother Louie and many others. During his time with Modern Talking, he enjoyed countless global chart successes; Anders is subsequently one of the few German stars who can be said to have made both a national and international impact on the music scene. Tickets cost from RON 100 to RON 300 and can be bought from the Eventim network. 
Cirque du Soleil – Quidam
January 29 – February 1, Romexpo
Since its world premiere in Montreal in April 1996, the Quidam show has been seen by millions of people. It features over 45 top artists, acrobats, musicians, singers and actors. Cirque du Soleil says of the show, "Quidam: a nameless passer-by, a solitary figure lingering on a street corner, a person rushing past and swallowed by the crowd. It could be anyone, anybody. Someone coming or going at the heart of our anonymous society. A member of the crowd, one of the silent majority."
Tickets are available from www.evenim.ro and in Orange stores, with prices from RON 150 to RON 500.
February
Opera premiere Falstaff
February 19, Bucharest National Opera
Giuseppe Verdi's last opera returns to the Bucharest National Opera House after many years of absence from its repertoire. The director is Graham Vick, known for his original and experimental stage productions. Anyone curious about the style the Briton might bring to his local production can refer to the 1999 Falstaff he staged at the Royal Opera House Covent Garden, which drew inspiration from the paintings of Renaissance artist Pieter Bruegel, resulting in a mix of grotesque expression, balanced compositions and elementary colors. The three-act opera, which has a libretto by Arrigo Boito and is inspired by William Shakespeare's plays, will be performed in Italian and subtitled in Romanian.
March
One World Romania
One World Romania, Bucharest's only documentary festival and the only one dedicated to human rights in Romania, is now on its seventh run. Famed for tackling tough subjects, from Putin's Russia to the legacy of Communism, the event grew out of One World in Prague, and was first organized by the Czech Centre Bucharest. Gradually the selection and organization became autonomous, and in 2009, the organizers of the festival started the One World Romania Association.
Jazz Night Out – Kurt Elling Passion World
March 5, Radio Hall
For the first time in Romania, American jazzman Kurt Elling will present his Passion World project. Pianist Gary Versace, guitarist John McLean, bass player Clark Sommers and drummer Bryan Carter will join the Grammy award winner on stage. Tickets cost from RON 85 to RON 145 and are available from the Eventim network.
Richard Clayderman – From Paris with Love
March 26, Sala Palatului
Richard Clayderman returns to Romania for the fourth time with a world premiere: From Paris with Love. The iconic pianist will play some of his most famous works for two hours. Ballet and orchestral company Royal Camerata will accompany him. Tickets, which cost from RON 95 to RON 400, are available from the Eventim network.
Marc Anthony
March 31, Sala Palatului
The wait is over for Marc Anthony fans who were disappointed when the singer cancelled a Bucharest show scheduled for last May in response to the Ukraine crisis. The American will perform hits such as No Me Ames, I Need to Know, You Sang to Me, Rain Over Me and Tragedy on this, his world tour, Vivir Mi Vida. Anthony, formerly Mr. Jennifer Lopez, will also showcase his latest album, 3.0. Tickets cost from RON 220 to RON 870 and are available from the Eventim network.
April
Next Film Festival
Up to 30 short and medium-length films made by young and talented movie directors and sound designers from around the world will compete at the NexT awards. The event also serves as a meeting place for those who express themselves through film and love the medium.
Ballet triptych comprised of Classical Symphony, Pettite Mort and Marguerite and Armand
April 25, Bucharest National Opera
The Bucharest National Opera House premieres the choreography of some of the most popular artists of our time. One performance brings together the work of Yuri Possokhov, Jiří Kylián and Sir Frederick Ashton, the promoters of a style that combines contemporary and academic dance, tapping into universal themes and elements of ballet. The three compositions represent different approaches to the subject of love.
May
Roxette
May 17, Arenele Romane
Because it must have been love, Roxette are returning to Romania. In a nearly 25-year career, the Swedish pop duo has sold 75 million albums spawning over 30 hits. Top tunes include The Look, Listen to Your Heart, Dangerous, It Must Have Been Love and Joyride. Tickets are priced between RON 145 to RON 295 and can be bought from www.myticket.ro.
Opera premiere: Manon Lescaut
May 23, Bucharest National Opera
Director Jonathan Kent and set designer Paul Brown have transposed the Abbé Prévost story – the source material for the opera's libretto – to the licentious modern world. This new production, which premiered in 2014 at Covent Garden, in London, takes a fresh approach to the character of Manon, who falls victim to the consumerism and media obsession of today's world.
Transylvania International Film Festival
May 29 – June 7, Cluj-Napoca, several venues
Founded in 2002, TIFF has grown rapidly to become the biggest film-related event in Romania and a major regional cultural landmark. The festival presents innovative and striking films with a focus on originality, independence of expression and trends in youth culture. TIFF is part of the line-up that makes the vibrant city of Cluj-Napoca a perfect candidate for European Cultural Capital 2021. Submissions for TIFF 2015 are now open.
June
One Republic
June 4, Arenele Romane
One of the most successful alternative rock bands in recent years, One Republic is coming to Romania for the first time. Singer/songwriter Ryan Tedder and his bandmates will perform here as part of their tour to promote the US group's latest album, Native, which includes singles Counting Stars, Feel Again and I Lived. The set list will likely include hits from previous albums such as Apologize, Stop and Stare, Secrets, Good Life and Marching on. Tickets are available on myticket.ro and range from RON 120 to RON 235.
Ballet premiere: Giselle
June 6, Bucharest National Opera
During the 2014-2015 season, the Bucharest National Opera will showcase a new staging of this romantic ballet, created by choreographers Johan Kobborg, artistic director of the Romanian National Ballet, and Ethan Stiefel. The version was largely acclaimed on its premiere, in New Zealand in 2012, when it was performed by the Royal New Zealand Ballet.
Sibiu International Theatre Festival
June 12 – 21, Sibiu, several venues
Now on its 22nd run, the event – the biggest annual festival of performing arts in Romania – is a platform for the debating of ideas and the cultures of the participating countries. The ten-day festival typically sees participants from around 70 countries staging some 300 events. The European Commission has declared it "the third most important performing arts festival", after long established events in Edinburgh and Avignon. Tickets are on sale from the Theatre Agency in Sibiu, the national networks of Domo, Germanos, Orange and Vodafone stores, Humanitas and Cărtureşti bookshops and online at www.eventim.ro. Submissions have closed, but no information about the 2015 lineup had been made public by the time BR went to press.
 Oana Vasiliu