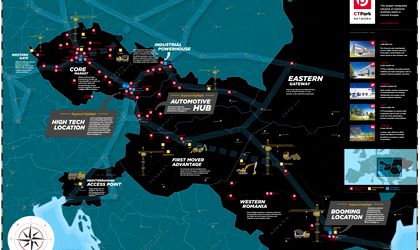 Dutch developer CTP was the most active player on the industrial property segment in Romania last year, reaching a portfolio which spans 342,200 sqm, following investments in property worth EUR 130 million. 
After a strong 2014, with transactions reaching EUR 1.17 billion and some very large deals on the local market, 2015 proved to be an equally liquid year in terms of number and value of transactions, which were estimated at EUR 650 million. Bucharest accounted for more than 80 percent of the total investment volume.
The company's largest acquisitions on the local market were Bucharest West, a logistics park owned by Portland Trust spanning 130,000 sqm (EUR 60 million) and Prologis Park Bucharest A1 from Prologis, a project with four warehouses which cover 100,000 sqm and 36 hectares of land for future development (EUR 40 million).
CTPark Bucharest (Portland's former Bucharest West) hosts DSV, Iron Mountain, Tibbett Logistics, Equest Logistics and Welde Romania.
The CTPark Bucharest West (former Prologis Park Bucharest A1) counts among tenants Quehenberger Logistics (renting 19,000 sqm within the park), Altex (leasing 8,100 sqm) and logistics firm Van Moer (occupying 5,100 sqm).
Natalia Martian
Photo courtesy of CTP