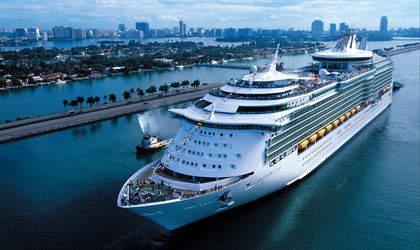 With Bucharest temperatures already in the 30s since June, a cool Mediterranean cruise becomes an appealing vacation option. Business Review packed its deck shoes and set off for a tour of the Med, to bring you the lowdown on maritime holidays.
Debbie Stowe
Why cruise?
While it's possible to see three or more European countries in a week without the aid of a ship, it would probably involve a lot of stressful driving or public transport navigation, plus constant packing, unpacking and repacking – the least fun bits of a vacation.
With a cruise, once you're on board, the logistics are someone else's problem. The itinerary, where to eat, where to sleep – it's all taken care of. Plus evening entertainment – from concerts and stand-up comedy to quizzes and games – is just a short walk away.
Why not cruise?
Cruising is not for everyone. Some independent travelers resent the strict schedule and miss the planning and individual exploration of a normal holiday. If your ship tends to dock early in the morning and leave early evening, you can feel like you're missing out on the nightlife and culture of the destinations. Unpunctual types should also be warned: the ship won't wait for late arrivals!
Pick your ports
Mediterranean cruises cover a vast area, from Portugal (not technically on the Med) to some of the Balkans and Middle East, and North Africa. Most week-long cruises will have one or two flagship stops – Rome or Barcelona for example – and perhaps a day spent entirely at sea (great for lazing around and not feeling guilty for not doing anything).
For history buffs, Athens is a must (the actual cruise port is in Piraeus). The Acropolis, Parthenon and Ancient Agora need no introduction. Get there and spend your euros while you can!
Barcelona, with its glorious Gaudi architecture, array of cultural gems and general urban charm, is a popular stop, although the strict schedule of a cruise doesn't really leave enough for exploring the Catalonian capital.
While not as well known as some ports, Dubrovnik has its fans (George Bernard Shaw said "those who seek paradise on Earth should come to Dubrovnik"), and the compactness of the historical walled city offers a different vibe from bustling metropolises like Naples or Marseille.
A bridge between east and west, religious and secular, there is nowhere like Istanbul. Again, a day here while your ship is in port is not enough to do the city justice, but from Bucharest it's not too far to drive and book a cruise departing from the port, giving you a few extra days to explore.
Then there's Rome: again, no introduction needed, especially given the Latin links between the city and Romania's history. Many cruises on sale at local tour operators have Rome (or Civitavecchia) as departure point – book a flight that arrives a few days beforehand.
The Maltese capital Valetta is a nice size for a day's sightseeing. The city is pretty, serene and walkable. If you're docked overnight, try to catch a concert at the beautiful Manoel, one of Europe's oldest working theaters.
Despite the vacationing throngs, Venice must be seen at least once. And a cruise is a good way to do it – saving you from the extortionate tourist-trap prices of accommodation and refreshments.
Villefranche-sur-Mer is the port serving Cannes. A relaxing, high-end taste of the French Riviera is a quintessentially cruise thing: enjoy a pan of mussels while looking out to sea as chic France passes elegantly by. Less than an hour away by train is Monaco, if you want to gamble, see the famous Formula 1 track or pretend to be in a Bond film. A North African port also makes an exotic stop, usually necessitating a day at sea. A cruise can be a good way to get a taste of a new, further away destination like Tunis. As cooler months come round, the operators' focus switches to hotter places, such as Crete and Cyprus. There are also themed cruises, which run the gamut from Bible-based itineraries to clubbing tours that take in the party-party Greek islands.
Departure points
Some Romanian operators include return flights to the ship departure port in their cruise packages, while with others you are expected to make your own way.
In a brief round-up of some of the cruises being promoted by local travel agents, Christian Tour was offering seven nights departing from Rome, at EUR 1,730 for two adults, flights included. The itinerary features Livorno, Cannes, Barcelona, Sardinia and Naples.
Paralela 45 had seven nights, through to the end of August, with prices starting from EUR 500 per person (plus port taxes of EUR 120), departing from La Spezia in Italy and taking in Marseille, Palma de Majorca, Ibiza, Corsica and Salerno.
Eximtur was advertising the same route starting from EUR 659 per person. It also offers seven nights leaving from Rome and stopping in Greece and Turkey starting at EUR 679 per person.
Perfect Tour has a route from Athens to Istanbul via Crete and Rhodes from EUR 1,040 for a cabin for two.
If you have a bit longer, combine a road trip or flight with a few extra days in an interesting port before you set sail. From Bucharest by car, Istanbul is probably one of the more convenient major departure points: spend a day or two getting there and some time taking in the city before sailing away.
If you're prepared to make your own way to the departure port, you are of course not limited to Romanian travel agents' offerings. Big names on the international cruise line market include Royal Caribbean, Princess Cruises, MSC UK and Cunard.
Costs
Prices vary significantly, based on a multitude of factors. Find a last-minute bargain, forego a sea view and book an inside cabin, travel outside peak season and you can sometimes get away with less than EUR 500 per person – fantastic value when this generally includes most meals, plus all accommodation and transport costs. Do the opposite of all that and it could be double or more. Also check the terms and conditions to find out what is included, as the extras can bump up the price quite a bit.