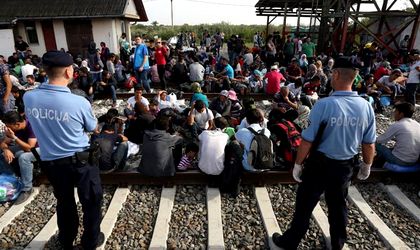 The Ministry of Foreign Affairs (MAE) informs Romanian citizens who are transiting or travelling to Croatia that local authorities have taken measures targeting to redirect refugees to secondary border crossings like Tovarnik, Ilok and Batina, warning that railway traffic is problematic at the time.
According to the MAE, road traffic is relatively stable while railway traffic is affected by bottleneck railway station in Tovarnik, situated on the route Belgrade-Zagreb, near the frontier between Croatia with Serbia, where there are about 2,500 migrants waiting to be transported to different locations in Croatia.
As the situation on the ground can vary from hour to hour, MAE recommends to Romanian citizens wishing to travel to Croatia to consult the websites of the Croatian Automobile Club, Croatian National Railway Company, the Port Authority in Croatia and the Croatian Civil Aviation Agency for updated information.
Migrants have been streaming into Croatia for two days, Reuters informs, their path to western Europe via Hungary blocked by a metal fence, the threat of imprisonment and riot police who fired teargas and water cannon on Wednesday to drive back stone-throwing men.
Hundreds evaded Croatian police, trekked through fields and reached the border with Slovenia by train on Thursday, part of a desperate and determined march westwards that is dividing Europe.
On Wednesday, the EU called an emergency summit for next week in a fresh bid to overcome disarray in the 28-nation bloc.
Natalia Martian