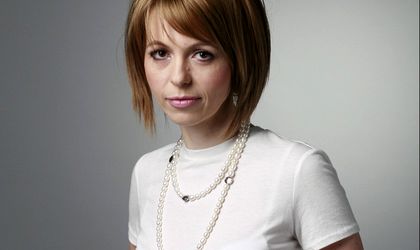 Cristina Bazavan, journalist and blogger, is the event speaker at Meet the WOMAN!, organized by Women in Business on Tuesday, October 20th, 2015, at 19:00, at Ernst & Young Bucharest Tower Center. The event topic will be "Blogging: advantages and online differentiation".
Meet the WOMAN! is a business networking event which takes place monthly and addresses both entrepreneurs and women who work in companies and are specialists in a field.
"More than something «cool» that we can do for our company, blogging has the potential to bring us real business benefits, it can help us be different from other dozen companies that offer similar things, but only if it's done properly. Cristina Bazavan will speak from her experience as a journalist and blogger about the purpose of a blog and how we can write sincerely, attractively and, most importantly, with real results," stated Alice Botnarenco, Women in Business founder and president.
CRISTINA BAZAVAN
Cristina Bazavan is a journalist with experience in print, radio and TV, but also one of the most visible Romanian bloggers. For 12 years, she was one of Europa FM's voices, a radio station with whom she performed a unique performance in Europe, becoming no. 1 nationally in just 6 months after launch. She was the presenter of the first season of the show Ca-n filme, and from 2005 to 2011 she was Tabu magazine's editor-in-chief. Her portfolio includes an impressive series of interviews with international cultural figures, including Steve McCurry, Milla Jovovich, Ziggy Marley, Olga Kurilenko, Margaret Atwood and many others.
NETWORKING TECHNIQUES WITH PAUL RENAUD
The new Meet the WOMAN! event series will also have Paul Renaud as a guest. He is Executive Coach and author of the book "A Networking Book" and he will present the best networking techniques and the benefits of connecting with other people.
Paul Renaud has over 31 years professional experience, 15 of them in executive positions in companies in 10 countries, is an Executive Coach qualified for any level of management, specialized in optimizing performance and delivers the workshop Masters of Networking, where he puts his experience in the field at the disposal of the participants.
EVENT ACCESS
The attendance fee is 90 lei (no VAT/coffee break included).
Event access is done only by booking and registration confirmation. Women in Business members benefit from a 25% discount from the attendance fee.
The attendance fee for members is 67.5 lei (no VAT/coffee break included).
LOCATION
The event will be organized at the Ernst & Young Bucharest Tower Center, 22nd floor, 15-17 Ion Mihalache Blvd., Bucharest (map: https://goo.gl/maps/krVWkXjPgQF2).
Registrations are done at: membership@femei-in-afaceri.ro and for further details you can call +40 762 677 111.
EVENT SCHEDULE
18:30 – Participant registration & coffee
19:00 – Event starts
19:15 – Networking techniques with Paul Renaud
19:25 – Each participant introduces herself and the business/job she has
20:20 – A presentation on the topic is delivered by the event speaker
20:35 – Q&A
20:55 – Raffle with prizes offered by partners
21:00 – Business Networking
PARTNERS
Ernst & Young Romania • OPTIblu • Nomenius • Level Tour • A_BEST • EnRose • Fundatia Calea Victoriei • Editura Litera • Conga by OPTIblu • ALISIA ENCO
ABOUT WOMEN IN BUSINESS
Founded in 2009 by Alice Botnarenco, the Women in Business organization develops projects which address entrepreneurs and women who work in company. In 2012 she represented Romania at Global Summit of Women, the largest economic forum for women, relaunched the site www.femei-in-afaceri.ro, positioned as an information portal from the female business environment and created the first online business platform for women in Romania.
Initially an online community, Women in Business has at present over 2000 members on LinkedIn and a few thousand participants at the over 200 business networking events which took place during 6 years of activity.