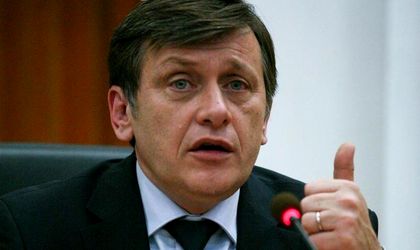 Romania's center-right candidate on Saturday withdrew his bid to run in a presidential election in November as the opposition struggles to forge an alliance after a clear win of the ruling leftists in European elections. PNL and PDL will have a single candidate for the presidential elections this fall, Vasile Blaga (PDL leader) and Crin Antonescu (PNL) announced after the first series of talks held on Wednesday.
Crin Antonescu, resigned on Monday afternoon from his position in the lead of his party, mentioning his decision is final, despite the fact that several party leaders had asked him to change his mind on the matter.
He had been seen as a politician who could have mounted a credible challenge to Prime Minister Victor Ponta, who may run for the presidency himself.
"I'm aware about the urgency of unification efforts of the right which must take concrete steps towards finding a candidate," Antonescu told a news briefing. "I announce my intention not to run for president."
Antonescu said a consensus candidate from the center-right must be designated no later than July 15.
Klaus Iohannis throws his hat in the ring for PNL presidency
Reactions from the political world
Klaus Iohannis said on Saturday that Crin Antonescu's retirement from the race is a unique gesture in the last 24 years and it was done solely to strengthen the party.
"Today I have seen a gesture from a great political man: Crin Antonescu. I have witnessed a unique gesture, for the last 24 years, made by a political with great political strength, very well positions, who gave it all up to strengthen the party", the Sibiu mayor said in a press release.
"I believe that through the gesture today, Crin Antonescu remains the most valuable man in the National Liberal Party and I hope and wish that together we can strengthen PNL and achieve the political objectives the party sets up", Iohannis added.
After originally stating that Antonescu's decision was a reasonable one on Saturday, prime-minister Victor Ponta went back and corrected his position on Sunday evening, in an interview with Romania TV, saying that the former PNL president was most likely manipulated.
"I don't believe the retirement is final. Nothing in politics is final and I believe that this exit was prepared for him. (…) It was something behind the scenes and it was obvious that at some point he will either retire or be retired to make room for a combination a long time in the making. (…) Everything happened behind the scenes, without giving a proper logical explanation to people and that tells me that Crin Antonscu was the victim of people that have been manipulating and intoxicating him since 2013. Evidently Traian Basescu was involved", the PM commented.
Asked if he will run as a presidential candidate, Victor Ponta replied:
"We are not in any hurry and we have until September to decide on the presidential candidate. If we can place a candidate in the Presidency that shares our projects and respects our choices, that is the best option. I would like to work as a prime-minister until the end of my mandate. If the only chance of winning is for me to run, then I will do it".