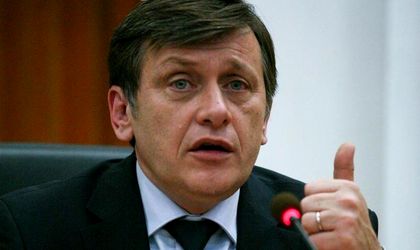 Crin Antonescu, 52 years-old, is Romania's president until July 29, when the referendum for impeaching President Traian Basescu will be held. Antonescu took the mandate from Basescu on Tuesday morning, one day after the Constitutional Court ruled out the suspension procedure of president Basescu was constitutional.
Traian Basescu arrived at the Cotroceni Palace around 10 o'clock and he was joined one hour later by Crin Antonescu. Half an hour later, Basescu drove off in his Dacia Logan.
Antonescu graduated from the Bucharest University, department of History-Philosophy in 1985, and worked as a history teacher and museum curator through to 1992. He became member of the National Liberal Party in 1990 and was minister of Youth and Sports between 1997 and 2000.
Antonescu became president of PNL in March 2009 and came third in the presidential race later that year. Starting 2011, he became co-president in the union social liberal alliance (USL) together with the left wing party PSD and center right party (PC).
Ovidiu Posirca