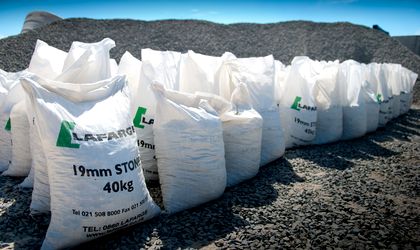 Irish building supplies group CRH will complete the acquisition of Lafarge Romania by the middle of the year, said Costin Borc, the CEO of Lafarge Romania, in press conference this Thursday. Given that the CRH is already present locally with two building supplies companies – Elpreco and Ferrobeton – after the acquisition of Lafarge Romania it will become the largest building supplies player on the local market, added Borc.
The Irish company will take over all of Lafarge Romania's assets, including its brand portfolio. The two factories that Lafarge operates locally will not be closed and there will be no layoffs as a direct consequence of the transaction, stressed the CEO. "The only difference will be that there will be a new shareholder," he explained.
Lafarge Romania has some 1,000 employees and in addition to the two factories in Medgidia and Hoghiz it also owns a grinding station, 15 cement stations and four mobile cement stations.
CRH announced in early February that it will pay a total of EUR 6.5 billion (USD 7.4 billion) to buy assets belonging to Swiss Holcim and French Lafarge in order for the two giants to obtain regulatory approval for their planned merger. Borc refused to comment on how much was paid for Lafarge Romania's business but said that the company's local assets played an important role in CRH's decision to sign the deal.
Lafarge Romania increases sales by 2 percent in 2014
Lafarge Romania sold 2 percent more cement in 2014, below the market's 5 percent growth, said Borc. Last year was a "complicated year", on one hand because of the announcement of the merger with Holcim and on the second hand because overall the sector was affected by the slowdown of public infrastructure works. This was a direct consequence of the fact that 2014 was an elections year. About 45 percent of Lafarge Romania's cement volumes are sold through retail networks while the rest goes to industrial users.
However, the company is more optimistic about 2015. "It looks like this will be a better year. Our clients are more optimistic, people are more optimistic," said the CEO.  He expects the market will grow by about 5 percent in 2015, meaning below 8 million tons..
Lafarge Romania's consolidated turnover stood at around EUR 200 million last year and for this year it targets a growth of between 5 and 8 percent. EBITDA was up by 14 percent. The company also invested EUR 10 million in 2014, about EUR 9 million of which went into a waste co-processing facility in its Medgidia factory.
Simona Bazavan