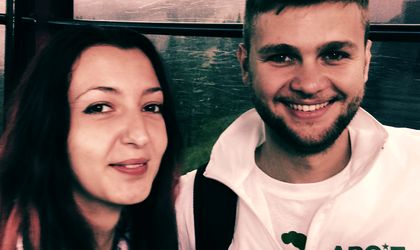 Ruxandra Papuc, copywriter McCann Erickson Bucharest and Vlad Tataru, Junior Copywriter Kubis Interactive have represented Romania at the 4th edition of ADCE Creative Express, that took place in between 24 and 26 of July in Austria. Creative Express is an workshop organized by Art Directors Club of Europe, that encourages the collaboration between creatives in Europe. Upon their arrival from the event we had an exclusive talk with Papuc and Tataru about their experience and the learnings they came back with.  
Romanita Oprea
How would you describe this experience?
Vlad Tataru: Creative Express was an amazing opportunity to meet new people from all over the Europe and to exchange great ideas with them.
Ruxandra Papuc: Creative Express was amazing. It felt like a creative camp only we were not students, but professionals. We all had something to say. It was a great exchange between cultures having advertising creativity at its core. It's an experience that builds you as a creative in ways you wouldn't expect.
What were the most interesting conferences and why?
V.T. : It's hard to tell but I think the most interesting conference was held by Klaus Funk. He showed us how to be creative in a very flat environment: on the radio. He gave us some great examples of ads, too.
R.P.: All speakers had interesting presentations, but the one that really stuck with me was Nynke's (Nynke Koster). I think her perspective on art is a great example of creative thinking. She always looks for what most people don't see. She gives life to negative space not visually, but conceptually, and that is one way of seeing things that brings up unexpected approaches. I think it's always great to look at things from a different angle and spot the opportunities they unveil that way.
How were you perceived by your workshop colleagues from the other countries? Did they know anything about the Romanian advertising industry?
V.T.: I was lucky to work in a team with two great colleagues: Aya, an amazing Japanese designer working in Finland and Philip, a great copywriter from Austria. After the first day together, it felt like we already knew each other for a long time. They didn't know much about Romanian advertising industry, but while sharing our stories we found out many similarities between our agencies.
R.P.: Once we got into the industry talk we had the same references about agencies and networks. We talked about our own agencies and their success. I was proud to represent McCann Bucharest.
One to one, I think we all grew fond of each other and appreciated our skills mutually. I know everyone liked the final presentation our team held, so I'd say we did a good job together.
What are the main learnings that you are coming back with from this experience?
V.T.: I came back with a ton of inspiration and motivation to create amazing things. I also made a lot of creative friends from different countries and we are still keeping in touch.
R.P.: There are many things this experience has taught me, I think I don't even realize it all yet. I'd say the connections we've made are most important and the fact that we're still in touch online will keep building us as creatives.