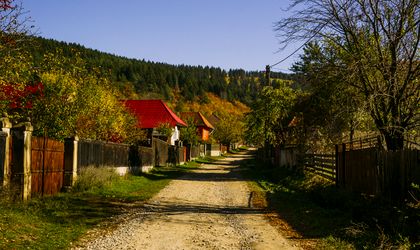 Castles, manors and fortified churches scattered across scenic villages and unspoiled nature are all waiting to be discovered in Covasna County at just a two-hour and a half drive from Bucharest. Venture deeper, and the county promises travellers the full experience of living history and traditions, and of plenty of peace and tranquillity.
Simona Bazavan
The first thing that may surprise a new visitor upon entering Covasna county in central Romania, is how easily one gets here – Sfantu Gheorghe, its main town, is located only 34 km from Brasov and around 200 km from the capital, Bucharest.  The next pleasant surprise (in a long list to follow) is the rich diversity, albeit not very well-known, the county has to offer travellers.
Covasna is located in southeast Transylvania, an area inhabited mainly by the local Hungarian minority, the Szekelys. Castles, manors and fortified churches set against scenic villages stand proof of the region's rich historical heritage. Add to this welcoming people proud of their age-old traditions and crafts, and Covasna becomes a place not only worth paying a single visit to, but certainly one to return to for more.
Places to see…
It gives one the feeling of walking straight into the middle of a Grimm Brothers fairytale when stepping into the main lodge of the Kalnoky Manor, in Miclosoara.  The quaint rooms are styled with Szekely antique furniture and the atmosphere is complete with stove fires and the smell of apple pie and caraway tea. Upon discovering Kalnoky Manor and its surroundings, it is not hard to understand what attracted the owner, count Kalnoky Tibor, to invest in refurbishing the place. There is a sense of living history and enduring traditions that give the traveller the reassuring feeling that time can, at least sometimes, slow down.
The count also owns the nearby Kalnoky Castle which is presently being refurbished, and several other similar properties in the region.  Others like him – the most famous of which is undoubtedly the UK's Prince Charles – have made similar investments in bringing the manors built by local nobility back to life.  There are plenty such properties to choose from, with close to 200 castles and manors scattered throughout the county, albeit sadly, not all are open to the public.
Such is the case of the Szentkereszty Castle in Arcus, where only the surrounding arboretum can be visited. Elsewhere in Covasna, the Mikes-Szentkereszty Castle in Zagon or the Damokos-Gyula Castle in Cernat, function as cultural centers or museums.
Others, such as the Mikes Castle in Zabala, the Benke manor in Moacsa and the Daniel Castle in Talisoara, have been transformed into hotels. The latter was bought and refurbished by Lilla and Attila Racz in 2008. They had to decide between buying an apartment in Bucharest where they both worked at the time, and the 400 year-old Renaissance castle, remember the owners.  The property was refurbished and six years later, the hotel was opened to the public featuring eight rooms, each with a distinct period design.
…and things to do
What is there to do after checking in, besides visiting the county's manors and fortified churches? Quite a lot actually, say the owners of Castle Daniel and Kalnoky Manor. Nature lovers can enjoy the scenic landscapes with bike tours and horse rides, and there is also the option of off-road tours for the more adventurous. Must-see places include the Varghis Gorge with a nearby 800 meter cave, and further on in the neighbouring Brasov County, the Racos extinct volcano and the Emerald Lake.  Covasna's renowned mineral springs and spa facilities are another attraction that makes it worth paying a visit to. What are perhaps less known are the local "mofetas" (gas emanating sites) which are recommended for the treatment of various afflictions. The one in Hatuica is built over a mineral water spring and the CO2 exposure is enough to warm one's feet in several minutes.
History buffs on the other hand can travel as far back as prehistoric times by visiting the Baraolt Museum which hosts almost a complete three million year-old mastodon fossil as well as the nearby coal mine where it was discovered, by accident, in 2008. For a more recent Renaissance atmosphere, Castle Daniel offers groups themed evenings with music, dance and complete with a dedicated menu.
Speaking of food, make sure to try local produce, especially the local traditionally-baked potato bread, as well as local Hungarian cuisine. Besides the world-famous goulash, another must-try is the paprikash, a poultry dish with a cream sauce and home-made noodles. And no meal is complete without the local plum brandy (palinca), which two local businessmen, Dezso Tibor and Fustos Imre, are trying to transform into a premium product. Their distillery, which can be visited, produces some 2,200 litres of palinca a year under the Potio Nobilis brand. Made from fruits such as plums, pears, apples, cherries or raspberries, their product has already won numerous medals in international competitions. They might all seem to taste the same for the first-time drinker but the smell will definitely pleasantly surprise even non-fans.
Visiting craftsmen is another activity that should not be missed while in Covasna. Time slows down in the county's scenic villages and it even feels like it's standing still entirely when one crosses the threshold of local traditional craftsmen.  The Suto family in Varghis has been sculpting and hand-painting furniture since 1568. They came to the area to sculpt and paint the furniture for the Daniel Castle and the next 15 generations have strictly followed this tradition. Traditional Szekler furniture pieces such as beds, cupboards, drawers or chairs are still crafted and colourfully hand-painted today in the Suto family for local, as well as foreign buyers. "We've received requests to do modern pieces such as bar stools, but we don't do that. We only do traditional pieces," proudly says Istvan Suto. Even the tools he uses are traditional and the paints are made from local minerals. Some of the most popular pieces the craftsmen sell are traditional dowry boxes that come with a price tag of about RON 1,400 (approximately EUR 320.)
Preserving authenticity and traditional techniques is the motto of another local craftsman, Gyuri Nagy, from Talisoara. There are no templates, shortcuts or compromises, says the blacksmith who needed half a year to create the iron gates that adorn the entrance to the Daniel Castle. It takes skill to mold the metal using only traditional techniques and the blacksmith is more than happy to fire up his forge and show tourists how iron can be transformed into flowers. Get on the blacksmith's good side, and he might even use the forge to indulge his guests with a special treat – fire-grilled bacon complete with local onions, Szekler potato bread and the ever present palinca.
And talking about the fruit brandy again, if you purchase some, the best way to store it and age it would be in a barrel made out of plum tree wood, recommend aficionados. This is yet another reason to pay a visit to Szoke Tibor in the village of Harale. If a hundred years ago there were over 50 families of coopers in the area, now he is the only one left. He and his family craft mainly traditional wooden barrels, ideal for aging wine or palinca but the cooper is open to the production of less conventional items as well. This includes large spa tubs made entirely out of wood that can fit up to ten people at a cost of around RON 3,000 (approximately EUR 675). Like elsewhere across Covasna, the Tibor family is happy to welcome guests and the coopers are proud to demonstrate their skills and share stories. And because people are welcoming, don't be surprised if you will be offered some more palinca to sample yet again.
Field guide
How to get there: By car – Sfantu Gheorghe, the main town in Covasna, is located only 34 km from Brasov and close to 200 km from Bucharest, meaning a two-hour, two-hour and half drive from the capital. Local roads are generally in a good state.
Where to stay: The best way to experience local atmosphere would be to opt for heritage accommodation. Prices start at EUR 40/per person (breakfast included) at Kalnoky Manor and between EUR 80 and EUR 110 per room at Castle Daniel. The owners also offer various tour options in the region.
Local cuisine: Two places in Covasna where you could try the hearty Szekely cuisine are the Pivnita restaurant in Sfantu Gheorghe and the restaurant located on the grounds of the Benke Manor. If you decide upon the latter, make sure to drive on top of the nearby Pivnitele Mari Hill which displays an open-air art installation and offers a scenic view of the surroundings.
Cultural highlights: Sfantu Gheorghe is competing for the Cultural European Capital 2021 title on behalf of Szekely Land. Should it win the competition, it could receive some EUR 80 million to be used for investments in infrastructure and cultural projects and would make the town the go-to destination for culture lovers that year.
 Photos by: Andreea Retinschi