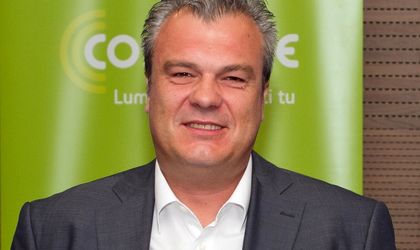 Sister companies Cosmote Romania and Romtelecom saw their revenues move slightly downwards but still remaining at a stable level in fiscal year 2012, ended December 31st, according to the financial indicators posted by OTE Group.
Cosmote posted revenues of EUR 462.8 million in fiscal year 2012. Its total customer base (including Zapp) stood at approximately 6.3 million, with the postpaid ratio increasing to 24.8 percent.
EBITDA (Earnings Before Interest, Taxes, Depreciation and Amortization) rose to EUR 119.5 million, up 19.4 percent versus financial year 2011.
Blended ARPU (Average Revenue Per User) for 2012 was in line with the financial year 2011.
"In 2012 we continued to strengthen our market footprint, with a sustained increase of EBITDA and business customer base. Providing connectivity and services for the Gigabit society, we actively contribute to Romania's crossing to the digital economy. In this respect, and with customer experience in mind, we are gradually going full speed towards 4G, the next level in network technology," said Stefanos Theocharopoulos (in picture), chief executive officer Cosmote Romania.
In the last quarter of 2012, the business segment grew by 32 percent versus Q4 2011, after Cosmote attracted major customers like Proges or Leonardo.
The operator's 3G customer base increased by 7 percent versus 2011, following the company's development of data services.
At the end of 2012, Cosmote's market share stood at approximately 24.5 percent.
At that time, Cosmote was offering mobile broadband download speeds of up to 43.2 Mbps in 74 main cities within the country, representing more than 41 percent of the population. Moreover, the operator offered speeds of up to 21.6 Mbps in HSPA+ technology in 147 cities across the country. Overall, 3G services cover more than 73 percent of the Romanian population.
At the end of 2012, Cosmote's national distribution channel consisted in approximately 550 points of sale across the country.
Sister-company Romtelecom saw its revenues slightly decline by 5.4 percent to a turnover of nearly EUR 620 million in 2012. The pro forma EBITDA increased by nearly 11 percent to EUR 166 million in 2012.
According to Theocharopoulos, over half of the customer base of Romtelecom use at least 2 services from Romtelecom.
Revenues from the TV service surged by 17 percent and clients tend to migrate towards value-added services.
The number of broadband internet clients soared by over 5 percent to 1.19 million.
This year Romtelecom will focus on offering customized bundles, especially in the TV services and entertainment segments, as well as introducing new ICT services for the business segment.
 Otilia Haraga