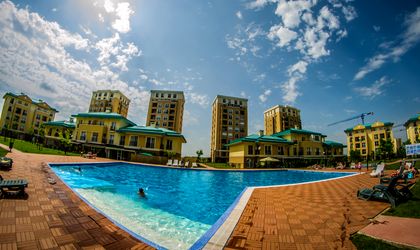 Opus Land Development, developer of the Cosmopolis residential compound in north-east Bucharest, will invest approximately EUR 20 million in building 500 new houses within the residential compound, according to a press release from Coldwell Banker Affiliates of Romania, manager of the project since 2013. They will also build a shopping plaza "with a leasable surface of 3,500 square meters, whose main shops will be Carrefour and miniPrix", say Coldwell Banker.
At the moment Cosmopolis has a total of 2,100 finished houses and a community of over 3,700 residents, according to Coldwell Banker. "The investments set for 2016 will also be directed towards continuing to build the general infrastructure of the project", the most important development being the new shopping plaza, says the real estate company. Up until now, "investments in the Cosmopolis compound amount to approximately EUR 268 million, and involve house building, infrastructure, commercial spaces and green spaces", according to the press release.
The shopping plaza will have a 1,200 square meter Carrefour supermarket, a miniPrix shop and three restaurants. "The mall, 50 percent of which is already pre-leased and whose finish date is set for this summer, will also include a GP office, pet shop, vet clinic, a butcher's shop, cleaner's, a car wash, a pastry shop, an interior design shop, a shop with organic products, a beauty salon, a bistro, and other service spaces and will have a parking lot of 60 places", says Coldwell Baker.
Moreover, this year the developers aim to build two more outdoor pools, several sports fields and will continue to work on the road within the compound, "which already has over 12 km of public roads", according to the press release.
Prices in Cosmopolis start at EUR 34,600 + 5 percent VAT for a studio apartment (56 square meters built up area) and go up to EUR 59,700 + 5 percent VAT for a 2-bedroom apartment (86 square meters built up area). Additionally, prices for houses start at EUR 78,000 + 5 percent VAT (92 square meters built up area), says the press release.
Andreea Tint