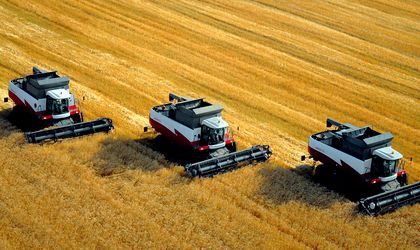 Buying cheaper inputs, selling produce for higher prices and gaining easier access to know-how are just some of the benefits farmers get when joining forces and forming associations such as cooperatives. BR talks to the representative of one such organization to find out how it actually works and why, despite the obvious advantages, the model has not yet caught on locally.
By  Simona Bazavan
"Increasing productivity (…) and reducing production costs in some agricultural sectors will not be achievable, or at least not beyond a certain limit, unless there is a shift towards associations and collective actions, in general," warned the EU's agriculture and rural development commissioner, Dacian Ciolos, once again in September.
Everyone agrees that getting farmers to set up and join cooperatives and other similar associations is a solution to many, if not most, of the problems Romania's agriculture sector is dealing with at present. Low productivity and competitiveness, price volatility for both inputs and produce, and land fragmentation are the most pressing.
As for the benefits the farmers themselves get by setting up and joining cooperatives, higher negotiating power is just one of many. "It is very simple from a mathematical perspective. It is one thing to negotiate the price when you're selling a tonne and another thing to negotiate when you're selling 100 tonnes. In the Danish milk sector, 80 percent of producers are members of farmers' cooperatives, in the Netherlands some 75-80 percent and in Spain about a half of all farmers are part of such associations," said Ciolos earlier this year. Members of an agricultural cooperative have the advantage of negotiating better prices for both inputs and produce. This is especially valuable for small farmers for whom relations with distributors boil down to a "take it or leave it" approach. Better negotiating power coupled with increased production capacity also helps when selling the produce, especially to large retail chains which have strict requirements regarding the quality and continuity of deliveries.
All in all, cooperatives can be helpful for all farmers as it is easier for them to build a profitable business when they are part of associations that sell value-added products.
It also gives them a stronger voice in an increasingly competitive agribusiness market where they can no longer rely on the authorities alone to defend their interests. In time, cooperatives can grow into complex businesses, well adapted to market conditions, where each member has a clearly defined role.
However, despite these benefits and the success farmers' cooperatives enjoy in the most developed European farming sectors, the model has not yet caught on locally. "Romanians lack the gene of association (…) and where there are two, there are already too many," said Laurentiu Baciu, president of the League of Romanian Farmers' Associations (LAPAR). A general reticence concerning cooperative forms rooted in the communist period, when cooperatives were assembled by force, is certainly responsible to a large degree for local farmers' attitude towards this business model. As is the fact that lack of information about how cooperatives actually work nowadays still fosters fears over the loss of control over assets and decision making when joining such an association. However, these are not the only factors responsible for the lack of enthusiasm. The authorities are frequently singing the praises of farmers' cooperatives but they have yet to come up with a clear strategy, or even individual measures, which would offer farmers more concrete incentives to set up or join cooperatives. "Such associations don't appear out of blue and even when they do get started, they don't survive and evolve unless they are supported," said Ciolos this September, during a Mediafax conference. First of all, for this to happen, there is a need for a clear and simplified legal framework regarding the various forms of association and fiscal incentives for farmers who are members of farmers' cooperatives, he commented. Secondly, the authorities need to support collective investments, something which could be included in the National Program for Rural Development (NPRD) for 2014-2020 which is currently being drafted. Local authorities have indeed suggested that the future NPRD will feature concrete measures to support the development of forms of associations such as cooperatives.
Strength in numbers
But even before the effects of the forthcoming PNDR kick in, those who have already set up and joined farmers' cooperatives say it is worthwhile. Francisc Bodo is one of the 19 members of the recently formed Viitorul Agricol Alexandria farmers' cooperative. The members, who he says are "mostly local investors", cultivate a total of more than 22,000 hectares of land with field crops. The cooperative hopes to attract more members in the future and has set the goal of reaching a combined turnover of some EUR 25-30 million in two years' time, said Bodo.
So, why set up the cooperative in the first place and how does it actually work? "It is very hard to achieve performance when one's forces are dissipated everywhere. Cooperatives are the only way, especially when we are talking about field crops," he said. The members run their businesses as normal and outsource at cooperative level only those activities which they agree upon. Inside the cooperative, decisions are taken through a board of administration but the actual management is done by an independent executive team.
Higher negotiating power resulting from combined forces is one of the main benefits, agrees Bodo. The need for this became particularly pressing earlier this year, when higher production than the previous year pushed down grain prices. Local farmers, the small ones in particular, have subsequently complained that they were left at the mercy of a handful of traders who dominate the market. Had they been able to negotiate prices through a cooperative, their balance could have looked very different, he argues. Things could even evolve to the point where farmers no longer need traders at all and are able to conduct export operations themselves by using the cooperative's infrastructure. Greater negotiation power is an important benefit but it is not the only one, says Bodo. "It boils down to running costs. The ideal would be for each member to get on with his or her business, which is farming, and divide all the costs that they agree can be divided with the other members. We have 19 members. Why pay 19 accountants when we could pay one or two to do the job for everyone?" he reasons.
Joining a cooperative also gives farmers access to services which would otherwise be out of reach. "Say one needs to hire a specialist for a technological or crop-related problem. This can cost thousands of euros. A farmer who cultivates, let's say, 2,000 hectares of land and sells his crops at prices similar to those on the market this year, which have wrecked the budgets of most farmers, will not be able to hire that specialist by himself. But it is a completely different situation when costs are divided between members," he outlined. Despite all these advantages, farmers' cooperatives are still not popular in Romania. This is not to do with the legal framework, but rather the underdevelopment in rural areas with everything this entails, thinks the Viitorul Agricol Alexandria representative.
Since cooperatives are so beneficial, what should the authorities do to foster the formation of such associations? Just one thing: to do their job, recommends Bodo. They should set clear development objectives for the local agriculture sector and strategies through which these objectives can be reached. The rest should follow naturally, he concluded.