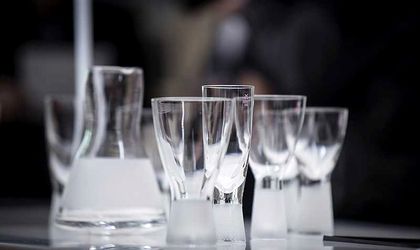 Czech Centre Bucharest and Galateca Gallery present Brilliant By Design, an exhibition of contemporary Czech designer glass and porcelain, which will take place between September 10-30 at Galateca Gallery (C.A.Rosetti, no. 2-4) and will be opened on Wednesday, September 10, at 18:00.
The exhibition presents designer glass and porcelain made by contemporary Czech artists or companies. It aims to specifically emphasize the continuity of the glass and porcelain production by selecting successful, timeless examples from the past 100 years. About the design, manufacturing process, the contemporary and traditional Czech glass and porcelain will present the exhibition the curator Petr Nový, whereas on September 11, one of the designers, Martin Žampach, will come to Bucharest to tell more about his art.
The Czech Republic is justly proud of its glass and porcelain. The golden age of Czech glass and porcelain came in the 18th century, when the products of Czech workshops and factories were successfully sold worldwide. Czech glass and porcelain production has always stood out for its accomplished craftsmanship, a rich variety of designs and excellent knowledge of foreign markets and their specific requirements. Nowadays, artists and designers are an integral part of the entire manufacturing process, notes Czech Centre Bucharest for this exhibition.
Oana Vasiliu