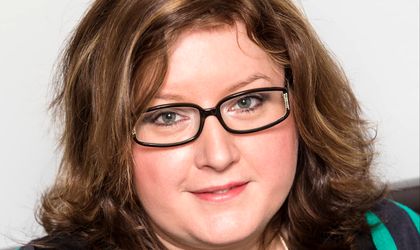 Starcom Mediavest has released the second edition of the annual encyclopedic Consumer Report. The material contains relevant information about consumers, based on their age, and contains surprising findings. Content is the « hero », the one that dictates and creates types of entertainment. Mature consumers are into traditional media in a larger proportion, while the younger segments are interested in the type of the content and its quality. The talent shows, the blockbusters and the games with high stakes, are the ones that give the youngsters a reason to take into account TV as an alternative.
Romanita Oprea
The agency's representatives realized that even if many marcomm specialists need increasingly more complex consumer profiles for developing communication strategies, in Romania there is no public source of information with centralized consumers' information. Meanwhile, Starcom MediaVest Group has access to multiple data sources, useful for outlining complex consumer profiles: studies developed by the Consumer & Business Insights department, audience measurement studies on various media (TV, online , radio, press,) information put at our disposal by our  partners (e.g. research agencies, Google). Therefore, starting this study was the natural next step.  Being an anthology of studies and not a study itself, data centralization work for Consumer Report 2015 began in September 2015. The project was managed by a team of four people but, it involved all the agency's resources across its development.
Expectations versus reality
So what were they really expecting to find out? According to their statements, every time they worked on the Consumer Report, they expected to see similarities and differences between the analyzed segments. In 2015, the Starcom MediaVest team focused on the life stage that defines consumers, developing their profiles based on information related to Technology & Web Usage, Entertainment, Brands & Shopping and Trends in action. More precisely, the analyzed segments were: teens (teenagers, 14-17 years), single youth (young people, 18-34 years, unmarried and without children), families with kids (families with children up to 14 years in a household), families without kids (generally couples over 45 years, whose children have left the household). Comparative analyses of consumers' life stages leads to meaningful insights, as they take into account multiple factors such as:  purchasing power, the diversity of each family member's needs, sharing the same income, the consumption habits acquired throughout life.
"An example of comparative analysis based on the Consumer Report data refers to financial services usage. Triggered by the necessity to satisfy multiple persons' consumption needs, both young and mature families are using credit products to a higher extent: from credit cards and personal loans, to mortgages. Life insurances are among most used financial products by young families, most probably being accessed to secure their children's future. Unmarried youth – representatives of the Millennials' generation, are the ones who use the most business accounts, having a more keen entrepreneurial spirit and reduced concerns regarding financial risks, as they don't have dependents," explained Rodica Mihalache, Head of Consumer & Business Insights at Starcom MediaVest Group.
And starting with the first edition, the team's intention was to position the Consumer Report as an informative encyclopedia about the most important consumer segments addressed by marcom. Beyond the descriptive part, the Consumer Report also contains a section of Case Studies illustrating how this information about consumers can be exploited in integrated communication campaigns.
Top 5 most important findings
One of main findings refers to technology, which, besides its functionality, becomes a content creator and facilitator, a status indicator or an aggregator of "family time" (through using different devices.) "As technology is moving from computers and TV sets to the home appliances area, mobile phones – and smartphones especially – are becoming the main technological devices owned by most of Romanians. Through SMG Experience Map, we realized a comparative analysis of smartphone purchasing behavior and we marked the actions performed throughout this process, from intention, product search, up to acquisition and post-acquisition. Identified shopper profiles are highly overlapping with consumers found in a certain life stage," said Rodica Mihalache.
Thus, young families are still discovering smartphones' true potential, using most voice and photo functions, or consuming audio/video content. Even though they don't use lots of smartphone features, they have a researcher shopper behavior, making well-calculated choices and searching for detailed information regarding the phone's capabilities. "This is determined also by the fact that technology is not used just by its owner, but it allows parallel online activities to be performed in the same common space, from different devices, pending on each family member's preferences. These consumers can make the highest technological upgrades, because they would like to have the newest smartphone features, but they are not loyal to a certain brand," added the Starcom MediaVest Group representative.
For youth, the smartphone is used at maximum capacity, being able to successfully replace the laptop or the tablet. In the purchasing process, they have a tech lover shopper behavior, having a short informative stage because they already know what they want, focusing their attention on one or two products. Generally, based on past experiences, they remain loyal to the previously used brand and will be attracted by renowned brands. The Tech-lover is someone who receives his information mostly (59 percent) from the IT&C blogs, who consults his/her family (56 percent), colleagues (54 percent) and friends (51 percent) prior to making a decision. Moreover, and very important for the agencies and the marketers, he/she is the perfect target for online and mobile advertising, as 51 percent of them saw internet ads, 49 percent saw online videos and 46 percent of the respondents saw mobile advertising. Also, almost half of them are interested in checking the information and the prices online, as they read R&R websites and visit price/features comparison websites.
In terms of trends, the single youth segment is increasingly more socially involved and responsible. In consequence, they started to differently perceive the meaning of earning, translated both in a pragmatic purpose, but also in an emotional motivation & reward, linking good deeds with social impact. As an example, the Starcom MediaVest representative is referring to crowdfunding actions or to an "exchange currency" materialized in CSR actions, such as the bank commission automatically directed to an NGO at each transaction, practiced by a series of banks, or crowdfunding platforms like Bursa Binelui – BCR, Curaj Romania – Raiffeisen.
"In the case of mature families, technology and internet usage starts from a functional purpose, therefore smartphone purchase will be fast, mostly triggered by an urgent need (e.g. old phone broken, battery problems) and price oriented," affirmed Mihalache. As shown by the study, this type of shopper is considered to be the "express shopper" and that because more than half of them (51 percent) consult with their colleagues when making an important decision, use mobile search less than PC search (45 percent), and read reviews on personal blogs. Also, 54 percent of them read newsletters, which makes them the perfect target for smart marketers.
When it comes to the purchase level, the express shoppers are likely to share their opinions about the used smartphones (a staggering 83 percent of them) and are happy to recommend new phone brands to family and friends (57 percent).
"Another finding related to the one mentioned above is that mature families, often considered a niche category in briefs, addressed mainly through TV, have a surprisingly intense digital consumption: once they have discovered the utility of a smartphone or the diversity of internet, they spend between 4 and 6 hours a day online. They often get in urgent need situations as they use a medium performing smartphone at maximum capacity, at which point it will collapse," explained Mihalache.
The study has its surprises even for the researchers that have been working for years in this field. "I was expecting the mature consumers to consider that using a computer or smartphone is a necessary chore to keep in touch with loved ones, but it seems that after understanding the utility of these devices, they also develop a certain dependency," added Mihalache.