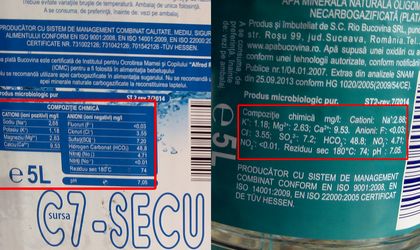 Following a study of waters marketed as being for special use for infants, the Consumer Protection Authority (APC) said it has found that Bucovina sells water from the same source bottled both as regular water and baby water.
"For the manufacturer SC Rio Bucovina SRL the same type of water was identified, with an identical chemical composition, from the same source, namely C7-SECU, but with two different names: Bucovina and Bucovina Bebe, both bottled in an amount of 5 liters. In this situation art. 21, para. 1 of GD. 1020/2005 approving the technical norms of exploitation and marketing of natural mineral waters was violated, which states that 'marketing is prohibited under several trade names of natural mineral water from the same source'. It was noted that the two products are sold at considerably different prices, as follows: Bucovina – 5 liters is sold for RON 4.53 lei, while Bucovina Bebe, in the same amount, is sold in a store with products exclusively for babies at the price of RON 11," the study showed.
Even more than this, the water bottling company markets their product as having "balanced mineralization, optimum pH and very low content of fluoride, nitrate and nitrite". Still, the research showed the water has the highest level of nitrates, 4.71 mg / l, of all waters examined.
The research included 12 assortments of water recommended for the hydration and preparation of food for infants: Bucovina – Bebe Bucovina, Aquatique, Izvorul Minunilor, Aqua Carpatica, Humana, Hipp, San Benedetto, Jana, My Water, Voslauer Junior, Kids, Vedda.
Water intended for babies' hydration and food preparation must meet the following requirements:
– low mineral content – mineral salt, calculated as total fixed residue, not greater than 500 mg / l;
– sodium content must be less than 20 mg / l;
– must correspond to the preparation of infant food – after the conduct of clinical trials and in compliance with NO3 levels according to provisions in GD 1020/2005;
– nitrate content must be less than 50 mg / l;
– fluoride content must be less than 1.5 mg / l. Drinking water containing more than 1.5 mg fluoride / liter are not recommended for regular consumption by infants and children under 7 years.
Unfortunately, there is no standardized chemical composition request and water bottling companies can choose what to show on their label.
The study found that 75 percent of the analyzed waters do not mention the nitrite content, 50 percent do not say their pH, 42 percent do not mention the nitrate content and 33 percent don't show content of fluoride, chloride and potassium.
Regarding the recommendation on keeping the product after purchase, 75 percent of producers use unclear words like "Keep away from direct sunlight and frost". According to APC, an accurate and useful statement would be: "Store in a cool place at 4-25 degrees Celsius, protected from frost and sun". During summer days with temperatures above 25 degrees Celsius keeping the product in improper conditions of temperature leads to migration of substances in plastic packaging such as bisphenol A (BPA), phthalates and dioxins, substances responsible for the occurrence of certain conditions such as obesity, infertility, heart attack, cancer.
Concerning the use of the product after opening, only 25 percent of manufacturers offer clear guidance on the use of water for hydration and baby food preparation, including instructions to refrigerate water or boil it after the bottle has been open for more than two days.
From the sampled waters, APC states that the most recommended ones in terms of sodium content would be Izvorul Minunilor (0.74 mg/l), Aqua Carpatica (0.78 mg/l) or Aquatique (1.2 mg/l).
"As long as the legislation does not oblige the manufacturer to declare the chemical composition of drinking water based on a standardized structure, we cannot speak of correct, complete and accurate information. In this case, the consumer is not able to choose the product knowingly, but influenced by producers' advertising. Regarding water intended for hydration and food preparation for babies, the legislation does not establish clear criteria on constituents and their values. At the same time, institutions that recommend certain types of water for the preparation of baby food are not transparent in regards to the procedures used for this purpose. Such products should be certified by accredited bodies by the Ministry of Health / National Accreditation Body," Assoc. Prof. dr. Costel Stanciu, president of APC Romania.
Some of the natural mineral waters are certified by the Romanian Society of Clinical Pediatrics (Aquatique and Aqua Carpatica), by the Institute for Mother and Child "Alfred Rusescu" (Bucovina) or they recommend themselves as appropriate for infant consumption, such as Izvorul Minunilor specifying on the label "food preparation recommended for infants".
Natalia Martian