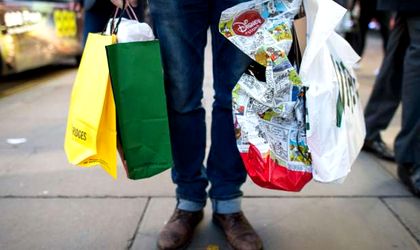 Although the local economy was marked by strong advances in 2015, Romanian consumers' economic expectations declined in the fourth quarter by 7.9 points, according to GfK's Consumer Climate Europe study for the fourth quarter of 2015. While the consumer climate indicator stood at 17.7 points the previous year, it reached 10.6 points in December.
Falling economic expectations also had a negative effect on income expectations, with the indicator falling by 6.4 points to 14.9 points compared with the previous quarter. This brings it to the same level as the previous year.
While in Romania incomes are still low, covering mostly "absolute necessities for everyday life," the consumers here have a low propensity to buy. The indicator was low throughout the fourth quarter, dropping by a further 1.2 points to -7.6 points in December.
Consumer mood in most European countries fluctuated in the fourth quarter of 2015, with the consumer climate index climbing 1.9 points to 12.2 points. While the dominant issues such as the refugee crisis and attacks spreading across the bloc sparked skeptical debates and mistrust, the end of the year brought increased economic numbers throughout Europe that allowed for a lift in spirits.
Among low crude oil and energy prices and improving inflation, "consumers had more money in their pockets to spend on other things," the study comments. The positive mood was set by falling unemployment in almost every country, meaning that more people were in work and fewer were worried about losing their jobs.
However, Romania was not the only country among EU members to present a contracted consumer mood among consumers. "Particularly in (former) crisis states, these positive influences were not yet sufficient to put consumers in the mood to make purchases. In fact, households in these countries still barely have enough money to cover their everyday needs," GfK concludes.
The findings of the GfK Consumer Climate Europe study are from a consumer survey conducted on behalf of the European Commission in all the countries of the European Union, comprising around 40,000 people a month. The study aims to measure five indicators: economic, price and income expectations; propensity to buy and to save, which are determined on the basis of so-called bottom lines (the proportion of consumers who answered negatively is subtracted from the proportion of consumers who answered positively).
Natalia Martian