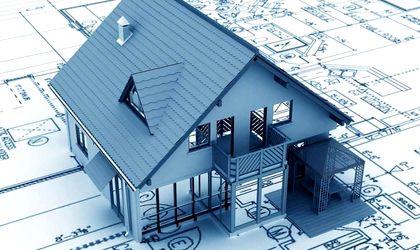 In September 2015, 3,503 construction permits were issued for residential buildings, a 26.5 percent decrease compared to August 2015 and a 9.2 percent drop compared to September 2014.  
Of the residential construction permits released in September, 62.4 percent were for the rural area, with most developed areas of the country indicating a slowdown in the construction field. Drops were reported in the North‐East area (‐393 permits), South‐Muntenia (‐295), North‐West (‐195), South‐East (‐176), Bucharest‐Ilfov (‐163), South‐West (‐62) and Centre (‐53). The number of permits released for residential buildings increased by 74 in the West development region.
Year on year, drops were seen in the Bucharest‐Ilfov area (‐244 permits), North‐East (‐70), South‐Muntenia (‐64), Centre (‐39) and South‐East (‐2). Increases were recorded in the following regions: West (+39 permits), South‐West Oltenia (+13) and North‐West (+12).
However, when comparing the first nine month of the year to the same period of last year, there was a 5.2 percent increase in residential construction permits issued.
Rises were reported in South‐East (+504 permits), North‐East (+467), South‐Muntenia (+407), North‐West (+324), West (+113) and South‐West Oltenia (+39). Decreases were recorded in the Centre (‐203 permits) and Bucharest‐Ilfov (‐143) development regions.
Natalia Martian