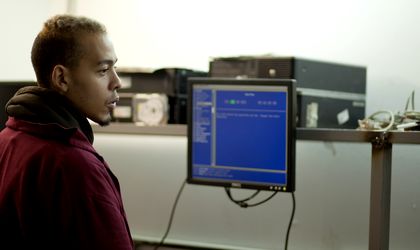 Disadvantaged Bucharest jobseekers can access advice and professional retraining at Atelier fara Frontiere (Workshops without Borders), a NGO aiming to fight exclusion, help protect the environment and promote solidarity. The NGO collects old IT equipment from companies, such as computers, printers, desktops as well as street banners, which are reconditioned or recycled in its workshop by a staff of vulnerable workers.
[restrict]
In 2008, the NGO started its IT department with international financial support. The Chambre de Commerce, d'Industrie et d'Agriculture Francaise en Roumanie (CCIFER) presented the NGO and its activities to its members, and as a result the organization raised the funds to give vulnerable individuals employment opportunities in its workshop. In 2012, 44 such workers were employed at Ateliere fara Frontiere, rising to 49 in 2013. Currently, 20 people are working there.
"At this workshop, we have workers from 18 to 63 years old. They come mostly from our partners such as Mobile Emergency Service Help Romania (known as Samusocial), the Concordia Association, Probation Service, General Directorate of Social Assistance and Child Protection (DGASPC), and other NGOs who work with vulnerable individuals," says Patrick Ouriaghli, executive director of Atelier fara Frontiere.
Personnel can spend two years at the workshop, during which they are given retraining for a domain that they like or are familiar with. The NGO also helps them find a job, providing study, qualification and accreditation opportunities. Workers get help to write a CV, job interview practice, evaluation and are recommended for permanent jobs at various companies.
IT department – recondition or recycle
At Atelier fara Frontiere, the process seems quite simple: someone brings some IT equipment to the workshop, it is sorted into categories, and finally tested. If the equipment still works, it is reconditioned, cleaned and donated through the Assoclic program, which aims to develop education using computers. If not, the equipment is disassembled and recycled.
"It is very important that we demonstrate to our personnel that what they do here, in the IT department, is greatly appreciated by others, which is why we invite the recipients of the computers to come and visit us. This is how we show our staff that the work they are doing eight hours per day is extremely important for another vulnerable group, those who can't afford a computer at home or at school," says Ouriaghli. So far, 4,373 computers have been donated through the Assoclic program to 771 institutions nationwide, which are used by almost 90,000 beneficiaries, according to completed questionnaires received by the NGO.
Street banner transformation, a new direction
"We try to develop our workshop in as many directions as we can, which is why we started the sewing service. Apparently, recycled street banners are very fashionable nowadays, so we transform them into bags, card holders, paper folders or anything our clients want," adds Ouriaghli. The recycled bags are available in the Carrefour hypermarket chain for RON 14.9. Most of the street banners collected cannot be used, as not all the materials are "friendly" and the chemical composition may not be suited to this type of recycling. The weather also affects the street banners, as the colors and materials can deteriorate. "We use very little of what we actually collect, probably 10-15 percent. We are keeping the unused banners and trying to find a way to recycle them, as no such factory exists in Romania," says Ouriaghli.
Of great help are the companies that already know what Atelier fara Frontiere does and which contact them to pick up their own street banners. This is a type of social responsibility that any company could consider, as the current national legislation doesn't require advertisers to retrieve their street banners after use.
Oana Vasiliu
[/restrict]