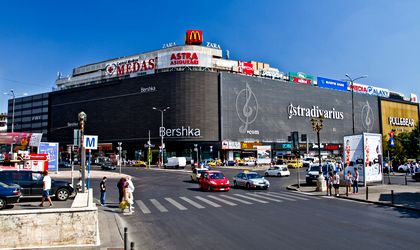 Value-for-money continues to be all the rage this year when it comes to clothes shopping, and although consumers remain cautious, fashion retailers are pushing forward expansion plans and looking outside Bucharest for future growth. Competition has become fiercer over the past year, and despite several casualties, the market still has potential for growth, players told BR.
By Simona Bazavan
Swedish fashion retailer Hennes & Mauritz (H&M) announced last week that it will open its 17th local store in Sibiu this autumn. Since entering the Romanian market last year, the retailer has undergone rapid expansion. The store in Sibiu will be the sixth opened so far in 2012 and further new openings are in the pipeline, says the retailer.
"H&M is continuing its expansion in Romania. After a presence of more than one year on the Romanian market, we are very satisfied with our results (…). We are enthusiastic about opening new stores in more Romanian cities (…)", said Ewa Jarzemska, marketing and PR manager at H&M.
Backed by international networks and armed with global know-how and popular brands, fashion retailers like H&M, Inditex, C&A and Kenvelo Group have continued to expand this year, mainly outside Bucharest, despite the fact that purchasing power remains low. Romanians continue to spend on average less than EUR 10 per year on clothing, which they mostly buy in the sales, as this gives them the perception of saving money. Lately, promotions have become more frequent and reductions larger.
The full half of the glass is that this economic contraction has led to cheaper rents and more favorable conditions in commercial centers.
However, not all players have the option of expansion in preparation for better days to come. This summer saw two local fashion retailers announce their withdrawal from the local market. French firm Kiabi is looking to sell the six shops it runs locally after reporting poor results. The company's initial plan when entering the market in 2009 was to reach a national network of more than 20 stores by the end of 2014. Kiabi has invested roughly EUR 3 million in the six outlets it directly runs locally. The retailer is owned by the French Mulliez family which also owns the Auchan hypermarkets, the Decathlon sportswear stores and DIY retailer Leroy Merlin.
Also this summer, Greek fashion retailer Sprider announced it was pulling out of Romania and selling its 17 local stores to Cyprus-based Naqua Investments for EUR 640,000. The decision was taken to allow the company to focus on the Greek market but, even so, Sprider says it has been posting continuous losses in Romania.
Before Kiabi and Sprider, several other players announced their insolvency. Earlier this year Staff Collection and Corssa, the two local companies which run the House of Art, Fox, Levi's and Eponge stores, went insolvent. They join Romanian women's fashion retailer Tina R, which met the same fate at the end of 2011.
Over the past few years the local fashion retail industry has become more complex due to two overlapping factors – the drop in consumption and fiercer competition after new stores were opened, Bogdan Belciu, management consulting partner at PwC, told BR.
However, this does not mean the market lacks growth potential for the years to come, he added. "If we take into account that modern retail still only covers about 50 percent of the market, compared to a potential of 50-70 percent in the next few years, there is a clear potential for growth in Romania. However, players face a significant increase in competition, therefore without a clear short-term, and mid- and long-term strategy, it is very difficult for a retailer to remain profitable," he said. As for the recent exits, Belciu says that this not a reaction to a market that no longer has potential for growth, but rather a strategic decision by an investor that has other priorities on a global level, as well as a below-expectation financial performance on the Romanian market.
Among the factors that contribute to a successful business strategy in clothing retail, Belciu cites a good range and pricing policy, good location as well as positioning and marketing.
"The Romanian shopper has become much more rigorous in analyzing the price-quality ratio and the market has become polarized as the middle class is still keeping a close watch on expenses. Given that the average expenditure on clothing products is below EUR 10 per person per year, it is clear that the market segment which competes on prices is the most complex (…)," said Belciu. International chains with a diverse assortment of products and a very good price-quality ratio are well positioned to face this difficult market environment, he added.
Increasing competition also means that finding good locations for new stores has become harder, although the modern retail stock distribution is uneven country wide. Not only the store's location but also the quality of the services within the outlet, as well as through the alternative sales channels, have become key elements in attracting and retaining clients, thinks Belciu.
Marketing remains important too, as the lack of a structured plan of promotion and positioning might delay the development of some retailers, while other competitors enjoy very good visibility and aggressive promotion, he concludes.
The full recovery of the Romanian fashion market is not yet imminent, but overall there are signs of maturing, for both consumers and retailers. As for future developments, the market is expected to see gradual recovery throughout the years to come, according to London-based market intelligence firm Euromonitor International.