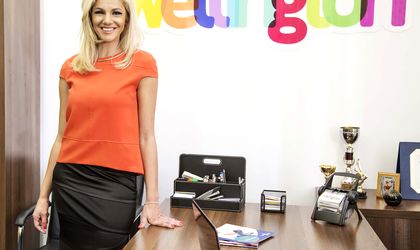 She was a gymnast as a child, a badminton champion in her teenage years and now she's running a successful business in the corporate wellness industry. Alina Grozescu is the entrepreneur who brings relaxation and happiness to companies' employees all around Romania. Over the past ten years, she has worked with more than 200 and convinced them that "wellness" is a concept they should focus on. Recently, she launched a new brand – Wellington and is eager to grow this USD 40 billion industry.  
How did you go from sports to corporate wellness services? Was it something you planned on doing?
Actually, I think I was at the right place, at the right time. In 2005, while I was waiting for a flight in Amsterdam, I saw somebody giving a massage on a pretty weird looking chair. At that time I was studying physical therapy at the University of Physical Education and Sport, so it made me curious. I started researching this innovative method of giving massages in places you wouldn't normally think it is possible… or appropriate. I even went to Greece for a special course. A year later, I had already founded Max Relax, the first On-Site Chair Massage provider in Romania.
How did companies first respond to this new idea?
I can't say it was easy, but I believed too much in the benefits of this program to give up. It's always difficult when you start a new business. But after we signed our first contract, others followed and we kept on growing. It has been almost ten years now and we have five regional offices all around the country, with more than 60 therapists working for Max Relax. And we're not planning on stopping anytime soon.
But now you're offering more than massages, right?
Absolutely. A few years back we realized that employees need much more in order to achieve that complete state of wellbeing. They have to feel good physically, mentally and emotionally. Therefore, we started developing integrated wellness programs for companies, which include nutrition workshops, sports sessions, stress-management seminars and many more. The feedback is great and since it's a growing industry, it only means that there is a lot to be done.
What do you think motivates companies to implement such programs?
I think it has become more of a necessity, than a choice. A few decades ago, things were a lot different. People would get a job, work for 30-40 years and then retire without ever thinking about quitting or changing employers. Now, they move from one place to another without blinking twice. A high salary is often not enough to keep employees satisfied and loyal to the company. They demand more and HR specialists do their best to ensure a high retention rate.
Unfortunately, there is another less…joyful aspect. Stressful environments, working on a computer 8 hours a day, not having enough time to relax… this all leads to occupational diseases. Employees' performances drop, the number of sick-leave days grows, the absenteeism rate goes through the roof and companies lose money. That's why they'd rather invest in corporate wellness programs. The benefits are exponentially higher.
I understand that you have just launched a new division?
Yes. Even though Max Relax is a very strong brand, easily associated to the On-Site Chair Massage service, it didn't do much for the corporate wellness activities. We started investing more passion and time into these new programs and we felt it was time for a fresh image, one that could properly represent us. This year we received a worldwide Corporate Specialist certification from the Corporate Health and Wellness Association so it was only natural that we started this new chapter in our business.
The company is called Wellington and we love everything about it. I hope our partners will do too. It's a colorful, lively brand that can grow and develop independently from Max Relax.
Tell me more about the project.
Implementing wellness programs is challenging for companies. They have to identify their employees' needs and then choose the right activities. It's not easy, but we are here to help. We are, first of all, wellness consultants and we work close with HR specialists in designing customized programs that can actually make a difference. Our experience in addressing large companies provides great input when trying to find solutions to specific problems. And we also provide the solutions. There are a lot of workshops and seminars that we develop in-house, but we have a wide range of partners and collaborators as well. We want to offer the best there is and we need the best people on the market. I'm confident that we are on the right track.
What are your plans for the future?
We want to offer a wider range of services. This month we opened Wellington Studio as well, a place specially designed for wellness activities where employees can benefits from different classes, we recently started a fruit delivery program for large companies and we are sole representatives of getfittter™ in Romania. It's a personal training and fitness app. We always want to do more, be better.
My personal goal is to help this industry grow. I want to show companies in Romania that with the right wellness program they can save a lot of money and keep their employees satisfied. If we can contribute to a healthier working environment, then we are happy.