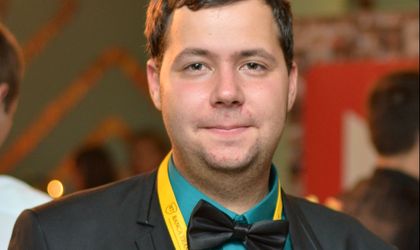 3Q with Bogdan Besliu, programmer of Comedy Cluj.
What does comedy mean to you, and Comedy Cluj in particular?
Comedy is the closest thing to my lifestyle. It's not all about laughs and fun, but I could not survive if I didn't have humor to get me through the bad things that I come across. And I feel like comedy in films, theater and even music is not only the genre meant to relax us, and make us laugh and forget about the everyday worries that we all have, but also the closest genre to real life.
Comedy Cluj is my passion. Seven years ago I visited the first one, a year later I signed up as a volunteer and then my journey behind the screens really started. Last year was my first as a film programmer and I feel like I really found my place. So Comedy Cluj is a window to the world of comedy, a space where you can see what makes other countries and cultures laugh, how they understand and approach humor.
What's on the silver screens at Comedy Cluj this year?
A cazy mix of films!  A handful of documentaries, which people almost never associate with comedy as a genre, a lot of independent films from all over the world, from Kazakhstan and South Africa to Peru and Iceland. A real tour of the world on the big screen.
What are the must-sees from the film selection?
The feature film competition, first of all. Eight films as diverse as they get, which all somehow touch on the subject of youth. Both the independent ones and the student ones because we don't really get to see short films in cinemas and these are the best we found. Also, one of the sections I love the most from this year: Blast from the Past, with four films from the 80s and 90s: Ace Ventura, Naked Gun, Spaceballs and Robin Hood: Men in tights, a few of my favorite films and I'm so happy I managed to bring them to the festival.
Comedy Cluj takes place in Cluj-Napoca from October 10-25.