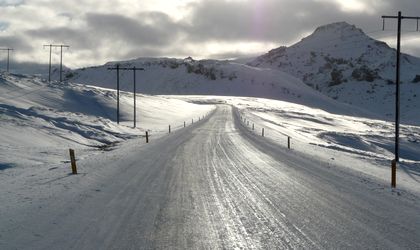 The National Meteorology Administration has issued a code yellow warning this morning between the hours of 10.00 and 12.00 regarding rainfalls that could lead to the appearance of sleet. The nowcasting warning is aimed at Bucharest, extended areas in the Ilfov, Calarasi, Ialomita, Teleorman and Georgie counties, and the south of the Arges, Dambovita and Prahova counties, according to the ANM website.
Furthermore, ANM has issued another warning until 22.00pm today regarding the mixed weather conditions, including rainfalls, which could facilitate the formation of sleet. "The area of these phenomena will slowly extend itself from the south-west, slowly covering the entire country", states ANM. The second half of today will see sleet forming locally and temporarily especially in the northern half of the country, and starting with tonight snowfalls will be widespread through the north-east and in the mountain area, while the south-east regions of the country will see significant rainfalls, states ANM.
As of 9.00am, there was no sleet on the A1 Bucharest – Ploiesti highway and on the A2 Bucuresti – Constanta and A4 Ovidiu – Agigea highways there were no traffic problems, reports Mediafax.
Andreea Tint