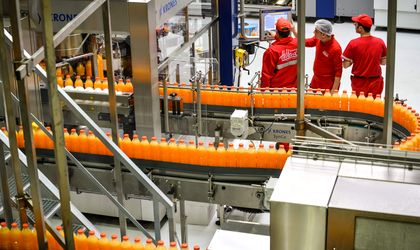 Coca-Cola, the biggest soft drinks company worldwide, inaugurated on Wednesday a new bottling line at its plant in Ploiesti, in a strategic move designed to turn Romania into an export hub for the company.
The Cappy Pulpy line required an investment of EUR 22 million over one year and became operational this July, creating 30 new jobs.
"It will become a center of export for a group of countries with 100 million consumers," said Muhtar Kent, president and CEO of The Coca-Cola Company, about the new line during the inauguration event.
The Coca-Cola system, comprising Coca-Cola HBC, the bottling and sales arm, and Coca-Cola, the marketing, PR, and brand management arm, has 64,000 clients in Romania, operating three plans. The company has over 1,800 employees locally.
"When a global company such as Coca-Cola, one of the strongest brands in the worldwide industry trusts Romania, this is the best message a country can receive, more important than any ratings," said PM Victor Ponta, during the same event.
Dimitris Lois, CEO of Coca-Cola HBC AG, said the bottling plant in Ploiesti, which was opened in 1995, is the company's biggest in South Eastern Europe.
The company has invested EUR 45 million in Ploiesti in 2009 to open an automated warehouse and a co-generation plant.
Ovidiu Posirca