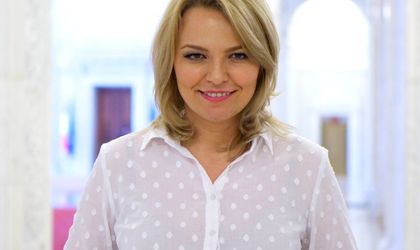 Executive Coach (PCC) |Master Certified Coach Trainer| ICF Romania: Board Member & Communication Director, Daiana Stoicescu gave BR an exclusive interview about what it takes to be a good coach, the industry and its trends in Romania, challenges and expectations.  
Romanita Oprea
How did you decide to make the switch from PR to coaching? 
People from all sorts of backgrounds get into coaching. My own story is interesting because it shows the difference between coaching and consulting, and why executives are interested in coaching…
I will explain to you how a traditional consulting study turned into a surprise. I was working as a Communication Consultant for a large multinational company. My team of three analysts had just spent three months and countless hours benchmarking the organization's communication process to determine the opportunity to improve. In the end our analysis was sound, complete and better than any other consulting firm could have provided and to my surprise, my client told me the following: "I didn't hire you for this communication analysis," he said. "And I didn't hire you to help us achieve our target, because my communication team can do that without you. I hired you because I needed someone to walk me through the pain that this change program is going to cause. I hired someone I could trust and could offer the much needed support when things got tough."
It was at that point that the power of executive coaching became clear to me. The executives I had been working with were competent, and usually knew what they had to do. But they needed someone who could serve as a sounding board, provide insights, and help them to stay focused and resilient in the face of enormous challenges and pressure.
Many of these executives received more value in a few 30- to 60-minute meetings with a trusted, supportive advisor than they did in half a million Euros' worth of highly-educated analysts on a consulting team. They knew ahead of time what the analysts would find. What they needed was someone who could help them make tough decisions and improve their performance. Following the experience, I became more curious about the profession, and wondered if I should become an executive coach.
What were the first steps you took after you decided to become a coach?
In the first instance, I asked questions and receive answers from other coaches about this new profession (20 years of experience in 2015). After numerous months of high energy personal research, I concluded that I wanted to be an International Coach Federation certified coach. They are, in my opinion, the governing body of coaching. This meant I needed to attend a Coaching Training Program accredited by the International Coach Federation (ICF). Training is increasingly important. There are many different coach training companies all offering something different in terms of content, delivery and style so it's important to find the course which both matches your personal learning style and will best equip you for the market you want to work in.
In less than 2 short years, I've become a Professional Certified Coach (PCC), a Vice-President, Board Member and Communication Director for ICF Romania Chapter, and built a global practice working with entrepreneurs, leaders, helping people perform better.
What skills from the PR times do you think that helped you the most in your coaching career?
In my PR career I used skills from research and communication to writing and creativity.
Most importantly, if you're considering a PR career you will have to be a good communicator, right? J You will not only need to be a confident speaker, but an excellent listener too.
Well, Coaching = Effective Conversations. What makes a conversation "effective"? It's about a dialogue (asking), not a monologue (telling).
As a PR and also as a professional coach I have to be sensitive to subtle nuances in language and culture because my job involves communicating with a range of people across different mediums (social media, in person, on the telephone and in writing) across different territories. I needed to be able to appreciate other people's priorities and pressures. I train myself to have "Effective Conversations".
What do you consider to be the most important decisions you took on your coaching career and why?
The most important decision was to sign up for the well-respected ICF accredited program "Coaching with the Enneagram" with a great coach from US. It changed my life.
At first, I wasn't so interested joining the course. But then I thought, "I should do this.." So, I signed up. Fortunately, I did the wisest thing for my career, ever. While I had the background to be successful at many things, this path felt really, really good. I wanted to be on it.
What do you offer differently than other coaches on the Romanian market?
I offer a One-on-One coach training and certification program specifically for accomplished professionals who aspire to be in the top 5% of coaches. Not Academic — No Fluff, Focus on Practical Results for Leaders. So, If you seek a coach training program that shows you how to work with leaders, executives, managers, business owners, up-and-coming-talent, and/or other professionals — and phrases like 'client satisfaction" "results," "proven," "practical," "real-world," and "personalized support" are important to you — I look forward to speaking with you to see If you are a good fit for this coach training program.
The emphasis of my Certified Executive Coach training and credentialing program is simple: Get great clients, get great results, and build a successful practice.
What is it harder: mentor coaching or coach training?
There are two distinct activities, indeed! I live my life after the motto: "Do Only What You Love, Love Everything You Do." So, I choose to do only what I love and love everything I do. I live and work with a productive passion so my programs as a mentor coach and coach trainer are easy, effortless, and very enjoyable for me. Mentor Coaching is an important requirement of the ICF (International Coach Federation) Credentialing process and is vital to the development and growth of the individual seeking an ICF Credential. Mentor Coaching provides professional assistance in achieving and demonstrating the levels of coaching competency demanded by the desired credential level sought by a coach‐applicant (mentee) and The Center for Executive Coaching is an ICF-approved training program that trains and Certifies Executive-Level Coaches through a step-by-step process to establish their executive & leadership coaching practice.
Whom is your target?
The type of coaching I teach and offer applies to a wide range of leaders and up-and-coming leaders: C-suite executives, leadership teams, managers, entrepreneurs and business owners, and up-and-coming talent. Executive coaching works with high-performing people in leadership roles. It is not therapy, meant to "fix" a person. As an Executive Coach, my clients are already highly functioning, successful people. Like any of us, they need support from time to time in order to perform better.
Is coaching a new trend on the Romanian business market? 
One trend that I see on the Romanian business market with my clients and with some very successful coaches is the convergence of a variety of professional services – training, consulting, facilitation, and coaching – to serve client needs.
While I can be successful as a pure coach, I am even more successful when I position myself as a complete advisor to my clients, willing and able to combine a variety of approaches. Clients want solutions to their pressing problems. Coaching is a profession with clear boundaries and competencies. However, in the "real world," clients want complete solutions to their problems. I believe a savvy coach is prepared to offer a range of solutions and wear multiple hats.
Unfortunately, despite multiple studies proving that coaching provides important career and organizational benefits, many leaders still do not want a coach. They will sometimes point to members of their team and say to the coach, "Go fix them. They are the ones who need help." However, they don't see the benefits of coaching for themselves – at least until something really negative happens in their careers, and by then it is often too late.
There is a different feeling to leaders who are closed to coaching, at least from my admittedly biased perspective. They come across as a bit more closed down, unwilling to explore new possibilities, and perhaps even stagnant. They don't like asking for or listening to advice and feedback from others, and tend to get defensive when constructive advice is offered. Sometimes they seem more concerned with other priorities than getting results, like looking good, being the smartest person in the room, dominating others, or winning some sort of popularity contest. They often have some sort of behavioral blind spot, for instance, getting angry too quickly, avoiding appropriate conflict, or letting their egos get in the way of getting results and building positive business relationships. Like the villagers in the story about the emperor who had no clothes, no one in the organization dares to give them a hint that they have opportunities to improve – and they don't believe the messenger, usually from Human Resources, when he or she comes with bad news. Eventually, they get pushed out, never reach the next level, or burn out. This situation is a tragedy, because with a little bit of coaching and a mindset of being coachable, they could find new ways to get results and thrive.
There is one other category of leader that is relevant to the Romanian business market: the leader who has a coach but never does anything despite the coach's best efforts. These leaders like the status of having a coach, but aren't really interested in making positive change. A coach is more like a status symbol to them, a way of saying, "Hey, I'm on the leading edge of the coaching trend. I have a coach with amazing credentials. I'm getting enlightened as we speak. Now leave me alone."
So, to get to the point, on the Romanian business market organizations are increasingly discovering the benefits of training managers and leaders in coaching skills. Used at the right time and in the right way, coaching is an effective approach for managers and leaders to develop their employees, increase engagement, and create a culture of leadership and success. This new trend emphasizes performance, accountability, and results – all in the context of developing employees and managers for the future. That way, companies continue to develop a pipeline of leaders in the organization while also setting higher and higher standards for improved performance.
Also, while managers and leaders complete a coaching training and learn to coach their own people, they also develop their own leadership abilities. That's because they look at their own leadership style and opportunities for improvement. In that way, we observe a triple benefit: The leader/coach develops new skills, the people whom the leader coaches improve skills and performance, and the organization as a whole gets stronger. The bottom line is that leaders who have coaches in Romania have a different quality about them and, to me, are better. I am so grateful to be in the coaching profession, because it allows me to work with the best of the best.
What do you consider to be the main challenges in this business?
Learning that building my own coaching business meant I suddenly also became director of accounting, marketing and promotions for myself. I had to do all this "business stuff" I had no interest in.
You said you never stop learning and looking for the next step to take in your coaching career. What are your main targets for 2016 & 2017?
My goal as an Executive Coach is to improve results in ways that are sustainable over time. My clients want some sort of outcome, usually related to improved profits, career success, organizational effectiveness, or career and personal satisfaction. If I'm not helping my clients get results, I'm not doing my job. At the same time, coaching is about helping people improve their own capabilities and effectiveness, so that the results and performance improvements last. To use the time-worn and famous quote, I am teaching people to fish, not feeding them for a day, so my goal is to help leaders add more value to their world by means of offering them tools they can immediately use to improve their business and life.
In addition to coaching my own clients, I also want to train and certify new coaches in ICF (International Coach Federation) accredited coach training programs. I will continue to be of service to them, and I'm committed to their success!
My personal goal is to become even better as an executive coach, developing the core competencies as a professional coach and becoming a Master Certified Coach (MCC) by ICF (International Coach Federation). This credential is for me much more than adding a bunch of letters after my name. It's a great way to advance my coaching career and become a more effective coach for my clients.
As mentor coach, my audacious goal is to support by the end of 2017, 100 new Professional Certified Coach (PCC), or Associate Certified Coach (ACC) in their credential application, according to ICF requirements. I will do this through one-on-one mentoring/coaching work and guidance from me, and through participation in The Mentor Coaching Groups, where coaches engage in weekly meetings with other coaches seeking credentialing and gaining exclusive access to tools and information designed to prepare them for the credential they are seeking.
Daiana Stoicescu is an expert at helping executives and managers achieve their most ambitious performance goals by coaching others to excellence. She provides one-on-one and group coaching. As a Master Certified Coach Trainer (MCCT) with the Center for Executive Coaching she is also certified to train other executives and managers to become Certified Executive Coaches. She is a Professional Certified Coach (PCC) with the The International Coach Federation (ICF), Communication Director and Vice-President on the Board of Directors of the ICF Romania Chapter.
Her business education (MBA equivalent- in Direct Marketing from EADIM- the European Academy of Direct and Interactive Marketing, London, UK and BA in Journalism & Public Relations, Concentration in Mass Communication-from University of Bucharest, Romania) is coupled with Transformational Presence Leadership and Coach Training: Evolutionary Awareness, Enlightened Action by The Center for Transformational Presence.
She is also certified to administer and interpret Coaching with the Enneagram by The Enneagram in Business, an ICF (International Coach Federation) accredited program that integrates the Enneagram with the best coaching theory and practice for managers, mentors, and coaches. In addition to her educational and coaching skills, she brings over 15 years of business experience.