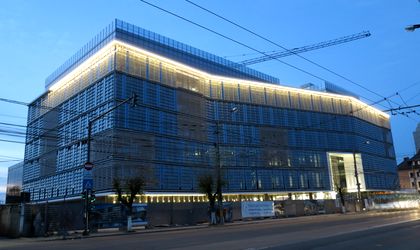 Some 52,000 sqm of modern office space will be delivered this year outside Bucharest, the bulk of which, 42,000 sqm, will be in Cluj-Napoca. A cheaper workforce and lower rents than in the capital and developing infrastructure are luring IT and outsourcing players to Romania's main regional cities. So how high is the demand for offices and are developers keeping up?
Simona Bazavan
[restrict]
Demand for office space outside Bucharest went up by 50 percent in the first quarter of this year compared to Q1 2013 and the trend is expected to continue throughout the year, Razvan Iorgu, managing director at CBRE Romania, told BR. Companies expanding their local footprint in regional cities is a trend that has been growing for several years now.
Alcatel, Atlas Telecom, Bombardier, Deloitte, Endava, Evalueserve, Flextronics, Genpact, HP, Intel, SAP and Siemens are just a few of the companies that have opened sites outside Bucharest in recent years, their main destinations being Cluj-Napoca, Timisoara, Iasi and Brasov. There is also demand for Sibiu and Targu Mures, Marius Scuta, associate director, head of the office department and tenant representation at JLL Romania, told BR.
The availability of a trained workforce and lower salaries than in Bucharest are the main reasons for this expansion. Cities such as Cluj-Napoca, Timisoara, Iasi and Brasov are also major university hubs offering an attractive labor pool for IT companies, SSCs (shared service centers) and BPOs (business process outsourcing). Demand for office space outside the capital continues to come mostly from such players, but also from the automotive sector and more recently from the agribusiness industry. "Following several good agricultural years, we have recently noticed a slight increase in office demand from firms active in connected industries such as farming equipment, fertilizers and grain trading," Andreea Paun, associate director in the office agency at Colliers International Romania, told BR.
The developing infrastructure and lower office rents than in Bucharest are other incentives luring players away from the capital. "For example, the total occupancy costs (rent plus service charge) for class A office space in regional cities are about 20-25 percent below the capital. For IT and telecom companies, which require generous surface areas, choosing a regional city is an option which on the long run generates economic advantages," Madalina Cojocaru, head of the office department at DTZ Echinox, told BR.
Average class A rents are currently between EUR 12 and EUR 14/sqm/month in Cluj-Napoca, Timisoara and Brasov while in Iasi the range is EUR 13.5 to EUR 15/sqm/month, she added. For class B spaces average rents drop to EUR 7-EUR 11/sqm/month in most regional cities, according to DTZ data.
Companies are looking mostly for class A office space but this is not always available. "Due to the limited class A office options outside Bucharest, some tenants are still interested in leasing, or are opting for class B or even class C office space, like old refurbished warehouses or industrial buildings. There is a trend, though, of relocating from old buildings to new modern class A buildings, where available and where the rental costs are similar to or lower than in Bucharest," said Scuta.
Overall, supply and demand are balanced – the average vacancy level is 10-12 percent in most regional cities, whereas in Bucharest it is 15 percent, according to Iorgu. The exceptions are Timisoara, where the rate is below this level, and Cluj-Napoca, where several office projects are being developed and the stock is expected to double by yearend, he added. A higher figure – 15 percent – is reported in Brasov, according to Cojocaru. "This vacancy rate reported for class A office space explains developers' decision to slow down construction this year," she commented.
However, despite the growing trend of expansion outside Bucharest, at present only an estimated 17-20 percent of Romania's modern office space stock is outside the capital. "The most active clients outside Bucharest are still IT and BPOs/call center companies. Only a few new companies to Romania have chosen to open their new office outside Bucharest. Almost all firms active outside Bucharest still have their headquarters or main office in Bucharest," said Scuta.
And the gap between the capital and the rest of the country will not narrow significantly in the near future. A total of some 50,000 sqm of modern office space is expected to be delivered this year outside Bucharest while the capital will gain another 120,000 sqm or thereabouts of office space.
As for new developments, Paun says there is a growing interest from developers in Cluj-Napoca, Timisoara, Iasi and Oradea. Liviu Tudor, president of local real estate company Genesis Development, the owner of the West Gate and Novo Park office projects in Bucharest, told BR in a recent interview that he is looking at the office market away from the capital. "I am doing this because I see tenants are looking to expand outside Bucharest to the large cities. I am looking at Iasi, Timisoara and Cluj-Napoca (…).For now I am only following this phenomenon," he revealed.
While there is interest in such developments from various realtors, Scuta says he is not aware of new land transactions involving office developments in the main regional cities.
Best of the rest: Cluj-Napoca
With its key position in the heart of Transylvania, a large and well trained labor force, good infrastructure and attractive occupancy costs, Cluj-Napoca, Romania's second largest city, has also grown to become the second most attractive hub after Bucharest for BPOs and SSCs. As a result, the town has the second largest office market in the country.
JLL estimates Cluj's modern office stock (class A and B) at 119,000 sqm (in 19 buildings) or 367 sqm per 1,000 capita. Class A office space represents 51 percent of the existing stock and the rest is class B. DTZ, on the other hand, puts the city's office stock at 150,000 sqm.
Cluj-Napoca's office market is looking at considerable growth in terms of new stock with four office projects totaling more than 50,000 sqm to be delivered by yearend. These are the first phase of The Office (19,350 sqm) developed by New Europe Property Investments (NEPI) and Romanian businessman Ovidiu Sandor, United Business Centre Tower (10,000 sqm) from Iulius Group, the second phase of Liberty Technology Park (13,400 sqm) by Fribourg Development and the second phase of Cluj Business Center (8,000 sqm) from Felinvest, according to JLL data.
The largest of the four projects, the first phase of The Office, will be delivered by the end of May. It has been dubbed the largest class A office project outside Bucharest. The developers announced last week that they have signed up a new tenant, American IT company Yardi, which will occupy 3,000 sqm, and that they are in advanced negotiations with several other IT firms already present in the city and two potential newcomers. The other tenants are ThreePillar, Deloitte and Lunch Box.
The Office, located in downtown Cluj-Napoca, will have a total leasable area of 54,000 sqm. The first 19,000 sqm will be delivered in the first half of 2014. The entire project should be completed by 2016.
The project is not the first partnership between NEPI and Sandor. The businessman is also the developer of the City Business Centre office block in Timisoara, which he sold to NEPI in early 2012 for an estimated EUR 90 million.
Outside Cluj-Napoca there will be little activity this year. The office stock in Iasi and Timisoara will gain 10,000 sqm and 9,000 sqm, respectively, in 2014, while Brasov will see its next delivery in 2015, according to DTZ data.
[/restrict]