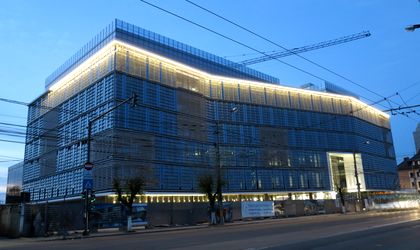 Over 60,000 sqm of modern office space will be delivered this year outside Bucharest, the bulk of which, more than 50,000 sqm, will be in Cluj-Napoca.
Simona Bazavan
With its large and well trained labor force, good infrastructure and attractive occupancy costs, Cluj-Napoca, Romania's second largest city, has grown to become the second most attractive hub after Bucharest for BPOs and SSCs, say real estate representatives. The office market is keeping up with the rising demand and this year should see the delivery of more than 50,000 sqm of modern office space, which is the equivalent of almost half of the city's existing stock.
"Demand is coming from companies that are already present in Cluj-Napoca, companies which are familiar with the country, the city, the local mentality and legal system. So it is organic growth. They either expand their existing departments or they relocate new activities here," Romanian businessman Ovidiu Sandor told BR.
This May, he and real estate investment fund New Europe Property Investments (NEPI) delivered the first building of The Office, a class A project in the city's downtown area. EUR 26 million was invested in the first phase (in 19,000 sqm of built area) and the owners are now getting ready to start the second phase (18,000 sqm). The total project will feature 54,000 sqm and should be completed by 2016. Sandor, who is a shareholder and the president of Moda-Tim, is also the developer of the City Business Centre office project in Timisoara, which he sold to NEPI in early 2012 for an estimated EUR 90 million.
In addition to The Office, 2014 should also see the delivery of United Business Centre Tower (10,000 sqm) from Iulius Group, the second phase of Liberty Technology Park (13,400 sqm) by Fribourg Development and the second phase of Cluj Business Center (8,000 sqm) from Felinvest, according to JLL data.
Given the huge demand for office space, from existing firms looking to expand as well as from newcomers, the market will absorb all this, believes Sandor. And it is the attractiveness of the local labor pool that keeps bringing in new business.
"Foreign companies come to cities like Bucharest, Cluj-Napoca or Timisoara because of their human resources. And Cluj-Napoca has 50 percent more college graduates than Timisoara, for example. This matters, as does the fact that according to a report, about half of these graduates plan to remain in the city after completing their studies, compared to only 20 percent in Iasi, for example," he added.
In addition to this, the city has got a lot of good publicity over recent years and has managed to earn itself the image of a dynamic business destination.
And while the capital continues to get the lion's share in terms of new business, there are signs that things are changing.
"Bucharest is no longer by default the first option for investors. And there are two reasons for this. First of all, the labor force is about 30 percent more expensive than in Timisoara or Cluj-Napoca. Secondly, in these cities staff turnover is lower than in the capital. There is a different mentality here," outlined Sandor.
In the future, the businessman expects Cluj-Napoca and other cities in Romania to continue to attract companies active in the IT sector and engineering, meaning all technical areas except IT. "The service sector is also strong in Cluj-Napoca. These are the main areas where we think we will see more players. And I also think there will be more American investors. Cluj-Npoca already has a stronger American presence than Timisoara. I wouldn't be surprised to see more American investors come to Cluj-Npoca," he concluded.