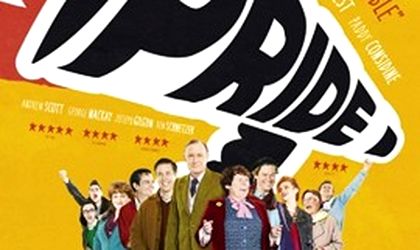 It's the summer of 1984 – Margaret Thatcher is in power and the National Union Mineworkers (NUM) is on strike. At the Gay Pride March in London, a group of gay and lesbian activists decides to raise money to support the families of the striking miners. But there is a problem. The Union seems embarrassed to receive their support, so the gay and lesbian activists go direct to the miners. They identify a mining village in deepest Wales and set off in a mini bus to make their donation in person. And so begins the extraordinary story of how two wholly different communities come together for a common cause.
This is the plot that the producer of the film offers, and which will be screened at Florin Piersic Cinema on Saturday, October 18, from 19.00, after the Comedy Cluj Gala.
Pride premiered at the 2014 Cannes Film Festival, where it received a standing ovation and won the Queer Palm award. The film was also screened at the 2014 Toronto International Film Festival, with the Washington Post reporting that Pride was "hugely popular with preview and festival audiences". It was released to cinemas throughout the UK on 12 September 2014. The distribution of the film in the UK and France was handled by Pathé. CBS Films aquired the distribution rights for the film in the United States. The film received a limited release in the US on 26 September, being screened in New York, Los Angeles and San Francisco.
Oana Vasiliu