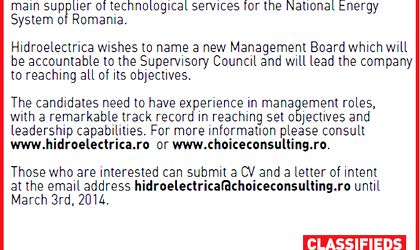 HIDROELECTRICA is the leader in electricity production and the main supplier of technological services for the National Energy System of Romania.
Hidroelectrica wishes to name a new Management Board which will be accountable to the Supervisory Council and will lead the company to reaching all of its objectives.
The candidates need to have experience in management roles, with a remarkable track record in reaching set objectives and leadership capabilities. For more information please consult www.hidroelectrica.ro  or www.choiceconsulting.ro.
Those who are interested can submit a CV and a letter of intent at the email address hidroelectrica@choiceconsulting.ro until March 3rd, 2014.