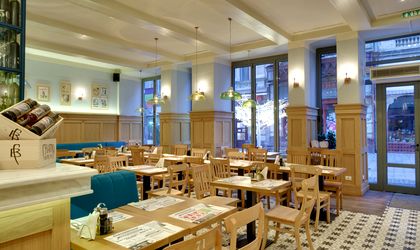 Dragos Petrescu, owner of City Grill Group, has announced the future plans of the horeca group, mentioning the opening of their 16th restaurant in Bucharest, Trattoria Buongiorno la Lido, on June 18, and the perspective of opening new locations in cities like Cluj, Timisoara, Iasi or Constanta.
"Bucharest represents an interesting market, a lucky one, where the average income is almost EUR 1,500 per family. Taking into consideration this income, the consumers are educated to go out for dinner without special occasion, unlike those from provincial cities where they go out especially for celebration", explained Petrescu in the press conference. He also added that a Bucharest tenant is giving EUR 5 for a daily menu and can make a habit out of it, meaning that restaurants can develop in this direction.
Read also an interview with Kevin Hill, corporate head chef at City Grill Group
In their convenience restaurants, City Grill and Trattoria Buongiorno, the average bill comes to RON 50, while in their event restaurants, Caru' cu Bere and Hanu' Berarilor, the customers spent at average RON 90. Officials also said 10,000 diners visit a City Grill Group location every day.
After 10 years on the market, the City Grill team has almost 1,000 employers, working in its restaurants, production, deposits and headquarters.
Oana Vasiliu