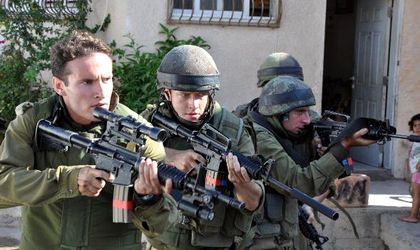 1989, and a group of rowdy young men are on a bus. A couple of lads listen to music, one looks at a picture of his girlfriend, another smokes a joint. It could be a standard spring break scene, but these boys are not going on spring break – they are going to fight. The bus delivers the men, a bunch of Israeli recruits, to the Gaza Strip, where they are supposed to restore order during the Intifada. When a confrontation with some Palestinians turns violent, four soldiers are tasked with finding the perpetrators, and the story centers on their efforts (or lack thereof).
Debbie Stowe
For a film whose main point is the painful futility of the Arab-Israeli conflict, Rock the Casbah is a surprisingly fun watch. Director Yariv Horowitz has a wry eye for the ironies and absurdities of the situation – whatever the broader political context, this is essentially a group of frustrated young men in the midst of a hostile community, which gives rise to frequent humor. The comedy is often used to underline the deep divisions in the region, such as when, fed up with the Muslim call to prayer, the recruits try to drown it out by playing the eponymous Clash song. Indeed much of the movie has a music video feel to it, which helps soften some of the harsher truths that any war film must face.
The central character is sensitive soul Tomer (Yon Tomarkin), the conscience of the film. He's stuck up on the roof of a Palestinian home with three one-note comrades, the firebrand, the fool and the stoner. None of them wants to be there; nor does the Arab family whose roof has been commandeered, for fear their neighbors will accuse them of being collaborators. The patrol is the picture of apathy, doing the bare minimum to avoid incurring the wrath of their blowhard superior officer, and the movie mines the "lazy workers try to outwit tough boss" comic territory.
But the humor does not detract from the film's indictment of the conflict. From laughable incidents, such as when the macho officer berates a local café for serving the recruits hummus and forbids any future transactions – before barking an order for coffee for himself – to sadder episodes, like the scene where Tomer responds to an invitation from an army psychologist to talk over his worries only to find her office closed when he tries to do so, Rock the Casbah repeatedly reinforces the futility of the conflict, showing how trivial stupidities and aggravations escalate into violence and perpetually refuel the mutual animus.
The "closure" of the ending is perhaps incongruous in its neatness, after the honest analysis that precedes it. However, the arrival of another Jeep full of recruits as Tomer and co ship out sounds a reminder of the endless cycle of battle.
Rock the Casbah was the winner of the Cinepolitica Trophy.
Director: Yariv Horowitz
Starring: Yon Tomarkin, Yotam Ishay, Roy Nik, Iftach Rave