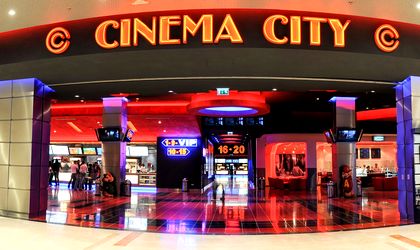 Cinema City announced its plans to open four multiplexes this year in Bucharest, Timisoara, Buzau and Piatra-Neamt, according to Mediafax newswire. In 2015 the cinema multiplex operator opened five new units in Bucharest, Constanta, Deva, Drobeta-Turnu-Severin and Suceava, the first two including 4DX halls. The investment rose to EUR 27 million.
Cinema City is part of Cineworld Group, a European cinema operator. The company has at the moment a total of 22 multiplexes and 198 cinema halls locally, Romania placing third among countries where Cineworld is present, after the UK and Poland.
"If we look at Romania, a country with 20 million inhabitants where only 2 million cinema tickets were sold per year in 2007, reaching over 11.11 million tickets in 2015, according to Cinemagia, we believe Romanians love to go to the movies, and the only thing missing in 2007 was cinema infrastructure," said Moshe (Mooky) Greidinger, chief executive officer of Cineworld.
Among major inaugurations last year, the company invested EUR 6.5 million into its complex in the newly open Mega Mall, which included 14 halls and the first 4DX hall in Romania. The second such hall was inside the Constanta Park Mall multiplex, the result of a similar investment as the one on Bucharest.
Cinema City has multiplexes in 16 cities across Romania: Bucharest, Arad, Bacau, Baia Mare, Braila, Cluj, Constanta, Deva, Drobeta-Turnu-Severin, Iasi, Ploiesti, Pitesti, Suceava, Targu Jiu, Targu Mures and Timisoara. In total, Cinema City operates 22 multiplexes with 198 halls and about 35,700 seats.
Cineworld Group is present in 9 countries, owning more than 212 multiplexes with 1,964 rooms, including 25 IMAX rooms and 12 4DX halls. The first theatre company was opened in 1930 in Haifa, Israel, the company extending into Central Europe in 1997, and entering Romania in 2007.
Natalia Martian