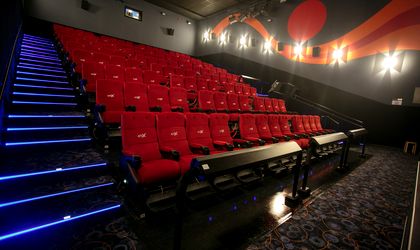 Cinema City opened this Tuesday its 18th multiplex in Romania in the Mega Mall shopping center in Bucharest following EUR 6.5 million investment which was shared with the project's developer, NEPI. The multiplex features 14 screens including one with 4DX technology which enables the viewer to experience environmental effects such as seat motion, wind, lights, scents and water.
In addition to the Mega Mall opening, Cinema City plans to add 5 more multiplexes to its local network by the end of this year or early 2016 which would require a total investment of about EUR 20 million, said Mooky Greidinger, the CEO of  Cineworld Group of which Cinema City is part, in a press conference in Bucharest.
This will make Romania the group's third market in terms of number of multiplexes and screens after the UK and Poland, explained the CEO.
He added that by 2018 the operator plans to open a total 14 multiplexes in Romania. "We invest anywhere between EUR 2 million – 3 million and EUR 7 million – EUR 8 million in a multiplex (e.n. the investment is normally shared with the developer) so this means a total investment of at least EUR 100 million," said Greidinger.
Cinema City entered the local market in 2007 and has since become the largest local cinema operator with a network of 18 multiplexes. The market has developed considerably during this period, growing from a total of 2 million tickets sold in 2007 to 10 million last year, according to company data.
Simona Bazavan