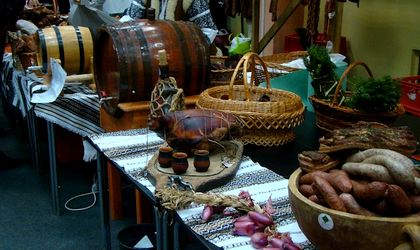 The International Women Association in Bucharest organizes on December 2 at Romexpo the Christmas Bazaar, an event that unites the international community in the spirit of giving. This event focuses on International Diversity, where more than 30 diplomatic missions and countries representatives will share their culture, music, dances, costumes, handicrafts, and authentic traditional food.
For this event, companies or individual have a chance to get involved by donating goods or food products that can be sold at the bazaar, make a cash donation, which will go directly to the charity committee account or by becoming an official sponsor and receive media benefits.
The purpose is to promote and support existing and active organizations by providing short-term financial assistance for their ongoing projects. Thanks to an overwhelming support from diplomatic missions, companies and general public, the 2011 Christmas Bazaar raised an important amount of money, that have so far been invested in the local community in the following projects: FARA Romania Foundation – RON 26,000. The organization is supporting disadvantaged youth with intellectual disabilities to achieve independent living. Their mission is to develop and provide services for the most vulnerable children, young people and their families, enabling them to live a normal life, reach their potential, giving them a way out of poverty and promoting social and economic inclusion whilst giving Christian values and hope for the future.
The Foundation for People Development (FPD)– RON 6,658.12. This is an organization supporting HIV positive and single parents both in Bucharest and outside the city. FPD develops activities for children and young people in difficulty, with an emphasis on HIV positive children and their families. At the same time, the foundation provides the necessary support for social and professional integration of HIV positive young people: social care, counseling for professional orientation, psychological counseling, protected shelters, orientation for vocational training and supervised apprenticeship stages.
"Iubeste-ma asa cum sunt" (Love me as I am) Foundation – RON 7.200. The main goal of its activities is social integration and developing of independent life skills for young people living with HIV/AIDS and who came from orphanages or child protection institutions, by providing them shelter in a family type home. Other services are provided as well, such as socializing and leisure time activities, community integration and information, education and HIV/AIDS prevention in schools.
The White-Yellow Cross – RON 14,200. White-Yellow Cross is a Belgian based charity organization with a Bucharest branch. The organization has been in Bucharest for the past 15 years. It has been supported in the past by the Belgian embassy. It provides support for health care at home. The organization serves both elderly and surgical patients. The organization provides community home care for 800 patients in six sectors of Bucharest.
Details about the event:
Sunday, December 2nd, 2012 from 10:00 to 17:00
at Romexpo, Pavilion C3
Oana Vasiliu