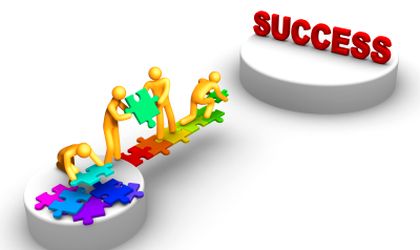 Choosing a market niche on which to enter can be a way to differentiate from other businesses and better meet the needs of a specific target of customers.
When it comes to launching and promoting a product or service, it is impossible to reach everyone in a meaningful way. A very broad range of consumers costs more to market to and it is very hard to meet the needs of every type of consumer. By choosing a market niche you can benefit from more effective marketing activities and a more useful response from your customers. Specialists say that when choosing a niche it is important to ask a few simple questions. What are you already selling and who is your target? What do you want? What hasn't been done on the market until now? What do your tests tell you?
A niche can also be defined by several areas you are interested in, the professional expertise you already have and people you like to work with. Testing is the only way to find out if a niche is profitable or has potential. By running some test marketing campaigns to gauge the market reaction to your product or service, you can save a lot of time and money when selecting a market niche. International specialists also say that a market niche gives you a focus. If your product or service is appropriate for more than one niche and you can focus on each as an individual target, you may be able to manage multiple business niches.
Dana Toma, owner of Dulce by Dana Toma Atelier de dulciuri, says that any entrepreneur should take care to avoid certain traps when deciding to enter on a market niche. She thinks that the biggest trap for an entrepreneur is to be influenced by other players on the market, for example on price policy, product selection or means of promotion. "This approach is wrong. I believe that the more valuable you are on a market the more your competition is valuable. But you don't have to imitate it or be intimidated by it. You have to follow your entrepreneurial intuition and stick with your initial strategy, even if it proves not to be the most profitable one from the very beginning. I also think that distinction and perseverance set you free from the trap of routine in business," adds the entrepreneur.
Toma outlines several steps to follow in order to choose the best market niche:
Double check. It is important to know whether the field of activity in which you choose to develop your start-up is feasible or not.
Find your competition. Check the market you want to enter and identify your competition.
Analyze the competition. Identify your target. Study the market. Carry out an impact study for the product or service you want to launch.
Differentiate yourself from the crowd. Establish what new elements your business brings on the market and the way you choose to promote your start-up.
But how hard is it for a business to enter on a market niche in Romania now? "I think that you can enter a market no matter how many niches it has, only if your product or service is tested and appreciated. I think that it's easy to enter on any market but it is harder to endure over time and maintain and improve the original product that gave you the recognition," concludes Toma.
Anda Sebesi