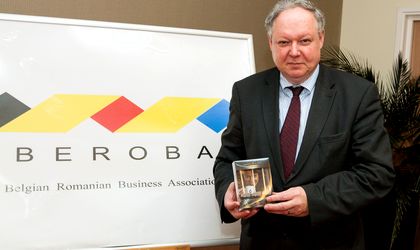 The Belgian Embassy in Bucharest, the Belgian Romanian Association (BEROBA), Flanders Investment and Trade and Agence à l'Exportation, in cooperation with Novotel Bucharest, will organize from Monday 22 till Sunday 28 of April 2013 a Belgian Week.
From Monday to Sunday, seminars with Belgian companies will be organized in order to present the opportunities for business cooperation between Belgian and Romanian enterprises. The Belgian pharmaceutical company UCB will have its strategy meetings for the next cycle, Belgian specialist on air photography Eurosense is presenting the newest service technologies in geoinformation and S.C. Siniat, as subsidiary of the Belgian company Etex, will explain its specialties on the dry wall construction.
On Saturday April 27, 15 Belgian companies will make, under the format of a Beroba Open Business Day, presentations of their products and services in an open for all public format. Belgian business aims to present itself as a true and long lasting partner in Romania. Belgian economic presence in Romania is still on the rise with Mega Image continuing expansion of its supermarkets network but also with several companies enlarging their investments or starting new investments. In 2012, the bilateral trade flows achieved a record height.
Belgium is an epicurean center with gastronomy as one of its shining stars. With the tradition of over 700 years in the production of special beers and since 1850 a top class tradition in chocolate pralines, fine culinary recipes were developed throughout the years based on local tradition. Today Belgian cuisine enjoys worldwide reputation for its variety and universal taste. Belgian beers, Belgian chocolate, Belgian waffles and of course Belgian fries will be served during the Belgian week in the Teatro restaurant. On Sunday April 28, the Belgian week will end with a splendid brunch set of Romanian and Belgian food.
The Belgian week is an opportunity for Belgian companies to present their know-how but also an occasion for civil society organizations to give visibility on further deepening their cooperation with Romanian partners. The exhibition in display in the lobby shows 25 years of solidarity between Romanian and Belgian municipalities. In particular in medical care centers and home care partnership was developed with success.
With 175 years of diplomatic relations between Romania and Belgium in 2013, historians from both countries have been working on the rich aspects of their common past. On Saturday April 27 at 15:00, a stone breaking lecture will be held at Novotel under the title "Belgian Romanian economic relations between 1838 and 1916".
All further information can be found on www.beroba.com
Oana Vasiliu