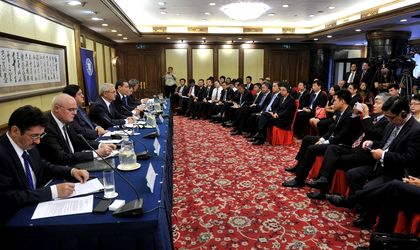 Prime Minister Victor Ponta has invited Chinese companies to invest in key sectors of the local economy such as agriculture, energy and infrastructure, during his 3-day tour in the world's second biggest economy.
PM Ponta said that Romania is interested in developing the nuclear energy sector with Chinese support, adding that investments are also needed in the hydro, coal and thermal power generation assets, according to Mediafax newswire. He stated that the infrastructure projects are another area where Chinese investors can get involved, with full compliance to EU regulation and quality standards.
PM Ponta leads a government delegation to China, which also includes Liviu Dragnea, the minister of regional development and public administration, Daniel Constantin, the minister of agriculture, Ioan Rus, the minister of transport and Constantin Nita, the minister of economy. Ponta was also joined by his wife, MEP Daciana Sarbu.
Economy minister Nita said that trade between Romania and China reached USD 33 billion last year, noting it is small compared to the excellent political relations between the two nations. He expressed his hopes that trade will reach USD 4 billion this year, considering that the first half figures stand at USD 1.9 billion.
Nita said he was "challenging" Chinese companies to invest in a network of small hydro power plants on the Prut river in eastern Romania, an undersea power transmission cable linking Romania and Turkey and the hydroelectricity plan Turnu Magurele-Nicopole, which should be developed on the Danube river in partnership with Bulgaria.
"I am convinced that these projects alongside the other will be finalized in the medium term," said Nita quoted by Agerpres newswire.
"We are interested in modernization and creation of modern production assets in the processing of copper and in the modernization of production assets for non-ferrous metals. On industry we are interested in the privatization of Oltchim, one of the biggest petrochemical plants in Europe, and of companies that manufacture medical equipments, that produce cast iron pipes and others," said Nita quoted by Agerpres newswire.
The economy minister said that Romania offers Chinese investors macro-economic stability, a flat corporate tax rate of 16 percent, a tax exemption for reinvested profits, and in the near future the potential reduction of social insurance contributions by 5 percent. These facilities are available for all investors in Romania.
Romania is seeking Chinese backing for the development of six technological parks in the field of electronics-telecom, food industry, mining, IT industry, wood processing and a logistics park in Constanta port.
Ovidiu Posirca