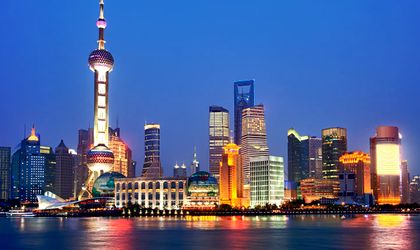 With successive financial turmoil in Greece and China, IMF analysts expect global growth to slow this year to its weakest pace since the financial crisis. The current problems in China may mark the end of investors' propensity to enter emerging markets, pundits warn.
Anda Sebesi
The recent financial crisis in China has put pressure on investors who were expecting significant revenues from their investments on the Chinese stock market. But international financial advisers say there is no reason to panic because of the crashes on the Shanghai and Shenzhen stock markets.
 Although this is an encouraging message, many commentators are asking if this marks the end of investors' fondness for emerging markets, including China. A three-week plunge knocked about 30 percent off Chinese shares from mid-June, while the country's securities regulator has warned of "panic sentiment" among investors, especially individual ones. In addition, hundreds of local companies have suspended their shares.
The Chinese authorities have taken some measures, including an interest rate cut. But their efforts have failed and, according to international analysts, the moves made by officials have increased panic among investors. Recent international data indicate that funds invested in global emerging markets like the BRICs (Brazil, Russia, India and China) have lost about 10 percent in value over the past year, and are now the worst-performing of all fund types.
International financial advisors say that for the long term investor, the Asian country still offers significant potential. "However, in the near term it faces major economic challenges. China's economic model has become fragile and unbalanced, with too much reliance on internal investment and exports, and a need to adjust to a lower but more sustainable level of growth," said Jason Hollands, adviser at Tilney Bestinvest.
Both investors and policymakers are concerned that the volatility in the Chinese stock market will significantly influence the country's economy, the second-largest in the world and a huge engine of global growth.
In such a context, many are asking if the country's financial crisis is actually bigger than Greece's. Instead of focusing on Athens, investors should be much more worried about what's going on in China, warned CNN Money at the beginning of July. Ruchir Sharma of Morgan Stanley Investment Management commented, "If the Chinese economy spirals downward, it will make the drama surrounding Greece feel like a sideshow."
Over four weeks, Chinese companies lost about USD 3.9 trillion in value, or more than 15 times the size of the entire Greek economy. The government has restricted new company IPOs and suspended trading by thousands of struggling firms. In addition, the securities regulator announced that any shareholder owning stocks worth more than 5 percent of an individual company could not sell them in the next six months.
"The Chinese stock market got out ahead of where the economic fundamentals suggested it should be," said Nick Consonery, a China expert at Eurasia Group, a political risk consultancy.
However, its economy is more insulated from stock market fluctuations than those in developed countries like the United States. According to The Economist, less than 15 percent of overall household assets are invested in it. The country's national savings rate remains extremely high, protecting it from a US-like debt crisis, and the government could still encourage more investment by lowering interest rates.
At the macroeconomic level, the government set a growth target of about 7 percent this year. In the three months from April to June, the economy expanded by 7 percent compared with the same period of 2014. In addition, in the first quarter of this year, industrial production posted its weakest growth since the worst of the global financial crisis, while the property market, a pillar of the Chinese economy, slumped.
According to available international data, the industrial sector increased by 6.1 percent year-on-year in the first half, down from 6.4 percent in the first quarter. By contrast, the services sector jumped to 8.4 percent growth from 7.9 percent in the first quarter. That matters since services now count for a larger share of Chinese GDP than industry.
But the current financial crisis in the country significantly affects the global economy. According to the IMF, global growth is set to slow this year to its weakest pace since the financial crisis, as mounting threats from China to the Eurozone add to a long list of forces restraining the world economy.
Pundits say that China has a history of manipulating its economic stats. The current PM, Li Keqiang, once said that local GDP data were "man-made and therefore unreliable". According to Economist.com, the most notorious example came in 1998 when many Asian countries suffered recessions but China said its economy grew by 7.8 percent that year. Looking at other indicators, many economists concluded that growth was in fact closer to 5 percent.
Market forces reshape the landscape
Since initiating market reforms in 1978, China has shifted from a centrally-planned to a market-based economy and experienced rapid economic and social development. According to the World Bank, GDP growth averaging about 10 percent a year has lifted more than 500 million people out of poverty.
With a population of 1.3 billion, China recently became the second largest economy and is increasingly playing an influential role in the global economy. Yet it remains a developing country (its per capita income is still a fraction of that in advanced nations) and its market reforms are incomplete. With the second largest number of poor people in the world after India, poverty reduction remains a fundamental challenge.
Rapid economic ascendance has brought many challenges too, including high inequality, rapid urbanization, environmental sustainability and external imbalances. China also faces the demographic pressures of an aging population and the internal migration of labor.
Significant policy adjustments are required in order for its growth to be sustainable. Experience shows that transitioning from middle-income to high-income status can be more difficult than moving up from low- to middle-income, say pundits.
China's 12th Five-Year Plan (2011-2015) forcefully addresses these issues. It highlights the development of services and measures to address environmental and social imbalances, setting targets to reduce pollution, increase energy efficiency, improve access to education and healthcare, and expand social protection. Its annual growth target of 7 percent signals the intention to focus on quality of life, rather than pace of growth.
The World Bank view
Growth in China is expected to decelerate to 7.1 percent in 2015 and 6.9 percent by 2017, reflecting a trajectory that is slower but more balanced and sustainable – a "new normal" for the world's second-largest economy, according to the World Bank's China Economic Update released at the beginning of July.
"In the short run, the slowdown in China's economic growth means the government is making inroads with structural adjustments and policy efforts to address financial vulnerabilities. Over the medium term, these efforts are helping China gradually shift its growth model from manufacturing to services, from investment to consumption, and from exports to domestic spending," said Karlis Smits, senior economist and main author of the report.
The state's polices to slow rapid credit expansion, contain shadow banking and limit borrowing by local government have led to slower investment growth in areas such as real estate, the report says. To prevent growth from slowing down too much, China also announced a series of limited, targeted stimulus measures, according to the World Bank country report.
"In 2015, it remains a priority for China to balance reforms and short-term growth, because large-scale, broad-based stimulus measures aimed at supporting growth may conflict with efforts to make the economy more sustainable in the medium run," said Chorching Goh, lead economist for China.
The country's economic structure is slowly changing. On the one hand, economic activity remains constrained by overcapacity in heavy industries, decelerating export growth and regulatory tightening on nontraditional lending. The real estate market remains weak, with excess inventory and, in most cities, softening property prices.
On the other hand, growth in services has stayed robust, especially in advanced services such as banking and insurance. And in most recent years, consumption has grown slightly faster than investment. To keep the economy on the right track, the World Bank report recommends, for example, a better allocation of credit, which in turn requires financial sector reforms. The investment-driven growth model helped China's economy take off, but reforms are needed to enable the financial system to support sectors that can maintain reasonable growth over the medium term.