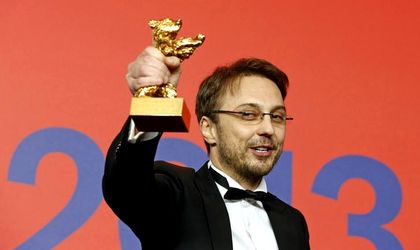 The new wave of Romanian film has for several years now served as a cultural ambassador for the country, as some of the most vibrant and engaging international contemporary filmmaking emerged from Romania. Locally made movies have garnered major awards at Cannes, Berlin and other festivals. The latest accolades are the Golden Bear and FIRIPESCI award (given by international film critics) at the 63rd Berlin Film Festival. The winning production was Child's Pose, directed by Calin Peter Netzer, which stars Luminita Gheorghiu, Bogdan Dumitrache
and Florin Zamfirescu.
By Oana Vasiliu
Unlike many of the prominent local films of recent years, Child's Pose avoids the usual themes of communism, the revolution, poverty and transition, Catalin Anchidin, Event Coordinator of Parada Film, the production house of the film, told BR. The milieu is Bucharest's high life, and the gray apartment blocks are in the background. "This is about a pathological relationship between mother and son," director Calin Peter Netzer told reporters at the official festival press conference. "The rest is really just a backdrop." The director described his film as "a very universal story", commenting that "corruption is not something that only takes place in Romania."
Netzer and screenwriter Razvan Radulescu started to work on a script about a dysfunctional family in 2009. After much debate, they abandoned that story, and turned their attention to their own lives and family dynamics, with a focus on Netzer's relationship with his mother. This was then developed into a fictional story, and the result was Child's Pose.
Critics' corner
Netzer welcomed the honor. "This prize is an excellent starting-point for the campaign that I am launching for my film in Romania. I think that a festival such as the Berlinale can help a film find its international public, but I also hope it will help it to find its national audience too." Film critics also weighed in. Writing in internationally known publication The Hollywood Reporter, Deborah Young said of Child's Pose, "Though dramatically a little too pat for comfort, the screenplay by Razvan Radulescu and director Calin Peter Netzer is admirably handled, with wicked moments of humor balancing out a truly dramatic finale. […] More than anything else, it is Gheorghiu's un-self-conscious, realistic character study of the emotional tyrant Cornelia that keeps the engine running on a compactly written drama."
Meanwhile in Cine Vue, Patrick Gamble commented, "A film about loss told through the duel themes of death and rejection, Romanian director Calin Peter Netzer's Child's Pose is a raw and unflinching film […] A suffocating and overbearing drama, Child's Pose cuts to the bare bone of maternal love. Yet despite Netzer's harsh and clinical approach, his gentle use of humor and the most sincerest of intentions create a deeply compassionate film about the emotionally crippling effects of loss – and an enlightening examination of contemporary Romanian society."
Jay Weissberg, editor of Variety magazine, was also complimentary. "Noted scripter Razvan Radulescu delivers his strongest screenplay for some time with Child's Pose, Calin Peter Netzer's dissection of monstrous motherly love. […] Sharp, multilayered dialogue and expectedly canny performances are strong enough to overcome the over-active, judgmental lensing."
Since winning first the FIRIPESCI award and then the Golden Bear at the Berlinale, Child's Pose has earned plaudits from Romanian film specialists too. However, Adevarul reported that the movie was not approved by the National Cinema Center's commission for funding in 2010, obtaining a final score of 6.41, having been given 4 by both film critic Calin Stanculescu and academic Florin Mihailescu.
Synopsis
On a cold evening in March, Barbu is driving along a street at 50 kilometers per hour, above the speed limit, when he hits a little boy. The child dies soon after the accident, leaving Barbu facing up to fifteen years in prison, something his mother, Cornelia, is determined to prevent. An upper-class architect, fond of flaunting her wealth, whose bookshelves groan with unread Herta Müller novels, Cornelia goes into bat for her lazy, languishing son. She hopes that her money will bribe the witnesses to give false statements and placate the parents of the dead child.
Netzer's film portrays a mother consumed by self-love in her struggle to save her lost son and herself. Shot in quasi-documentary style, the film meticulously reconstructs the events of the night of the accident and the days that follow, denouncing the moral vacuum of Romania's bourgeoisie and throwing into sharp relief the state of institutions such as the police and the judiciary.
Worldwide screening
After taking the Golden Bear in Berlin last week, global distributors rushed to acquire the rights to broadcast Child's Pose from Beta Cinema. The Romanian family drama was snapped up in France by Sophie Dulac Distribution, in Italy by Teodora, Benelux (Contact Films), Greece (Seven Films), Serbia/Montenegro (Discovery Film and Video Distribution), Australia/New Zealand (Palace Films) and Taiwan (Swallow Wings). As announced previously, Germany, Austria and Switzerland rights were nabbed by X-Verleih.
Child's Pose is released in Romania on March 8.
oana.vasiliu@business-review.ro