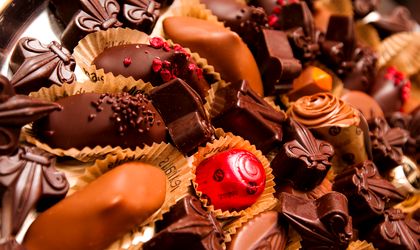 If you're looking for the perfect place for fabulous festive food, be it for your own Christmas dinner table or for delicious gifts to fill the hearts and stomachs of your nearest and dearest, BR is on hand to help you stock your Christmas kitchen.
By Oana Vasiliu
Food
Bacania Veche
This grocery store aims to offer food with a story. The shop sells traditional Romanian meat, dairy products, wines, all sorts of preserves, in-season fruit and vegetables, unconventional kitchen implements, baked goods, as well as international products – all under the motto "no preservatives, no colorings or other chemical additives".
49 Barbu Vacarescu Blvd.
Camera din fata
Among old family pictures, thousands of pots with flavored tea (150 varieties to be precise), cups of coffee and, of course, coffee (over 25 types), visitors are transported back in time, as Camera din fata is inspired by grandparents' houses. Tea lovers can choose their brew from among red, white, green, black, yellow, Japanese, Chinese and Indian blends, smoked, fresh and mixed teas and even unconventional combinations, while coffee is specially bought from one of the Romanian masters of the beverage, the distributor of the Royal House of Romania, Mihail Florescu. There is also a selection of related gifts: mugs, cups, tea services, tea pots, espresso machines and even homemade goodies such as jams and fruit syrup. 22 Mendeleev Street (Romana Square), 23 Temisana Street. www.cameradinfata.ro
Boutique Comtesse du Barry
Upmarket delicatessen that brings a little French gastronomic savoir faire to Bucharest. All manner of edible and drinkable treats await, including smoked salmon, caviar and posh chocolates, not to mention a range of wines. If you have foodie friends and money to spend, you could do all your Christmas shopping here. Another outlet can be found in BaneasaShoppingCity.
2-4 Episcopiei Street. BaneasaShoppingCity 1st floor, 3 Mircea Eliade Blvd. www.lemanoir.ro
Delicateria Traiteur
Serves up gastronomic goodies from a delectable range of chocolates to sauces, condiments and oils, not forgetting soft and harder drinks, plus accessories such as coffee makers. For those aiming to be more virtuous over the traditional season of indulgence, there is also a selection of organic products. Orders are taken online with delivery promised within 24 to 48 hours. 11-13 Oltetului Street. www.delicateria.com
Leonidas
The famous Belgian praline – a chocolate layer covering a soft fondant center – is best known in Bucharest thanks to Leonidas, a world-renowned chocolate maker, which sells over 100 different kinds of Belgian chocolate through 1,400 outlets around the world. To mark the winter celebration, over 20 different Christmas chocolate figures can be beautifully wrapped and put under the Christmas tree, for those with a sweet tooth. On top of that, tea lovers can purchase Tea Forte special collections, such as Winter Spice Teas, the seasonal recommendation.
35 Calea Dorobantilor. www.pralinebelgiene.ro
Wine
Arte & Vino
While its Romanian language-only website makes Art & Vino a little less foreigner friendly, this is another business run by proper wine people. The bottles stocked come from Romania, Eastern Europe, the traditional wine-making nations of Western Europe and the New World. 2 Marasesti Blvd. (Carol Parc Residence). www.artevino.ro
Corks Cozy Bar
Wine lovers can select their tipple from a few hundred labels at this OldCenter spot. The bar offers a menu of over 300 bottles, all of which can also be served by the glass. The selection includes both new and vintage wines. For wine collectors the bar sells anniversary and medal-winning wines, star buys, and wines from both the New and the Old World. 1 Bacani Street, OldCityCenter, entrance from Lipscani Street. www.corks.ro
Crama Murfatlar
Crama Murfatlar (Murfatlar Winery) stores can be found in almost all neighborhoods in Bucharest as well as in a large number of shopping centers. If choosing from the full range of the producer's varieties leaves you stumped, tasting is free and the vendors are there to offer advice. 35 stores in Bucharest
Ethic Wine
With an ethos of bringing quality wines to local consumers at sensible prices, Ethic has some bargain bottles (it also sells spirits and olive oil). The owners boast of having "the largest selection of Romanian wines in Bucharest", but the rest of Europe and the New World are also covered. 55 Banu Antonache, Piata Floreasca. www.ethicwine.ro
Fox Wines
Since opening just over a year ago, this place has become a firm favorite of the capital's oenophiles. There's a great range of choices and prices, plus regular wine-tastings where even the beginner is made to feel comfortable. The eponymous Fox (the genial Richard) is often on hand to dispense advice, and what he doesn't know about wine can be written on a cork. 87 Dacia Boulevard. foxwines.ro
Lizar Tobacco & Liquor Store
Wines, liquors, cigars, cigarettes, pipes, narghile tobacco and other accessories can be the perfect present for the smoker or drinker in your life. And for Zippo collectors, the stores sell the entire range of the famous American wind-proof lighters.
34 Pipera Tunari Road and 3-5 Radu Beller, www.lizar.ro
Van Gogh wine shop
The Netherlands might not be the first country you'd associate with fine wines, but the people behind Van Gogh café know their onions when it comes to quality food and drink. The expat hangout du jour sells a selection of bottles, which can be tasted on site along with some cheese, or delivered to your home. 9 Smardan Street. www.vangogh.ro
Vinexpert
Started by a group of oenophiles, the Vinexpert network stocks a range of top European wines and spirits, along with other high-end goods such as teas, coffees, chocolates and Cuban cigars. If you're stuck for inspiration, the website has a list of Christmas gift ideas. The chain also has mall outlets. 24 Octavian Goga Street. www.evinoteca.ro
The Winery Outlet
The Winery, part of the British company Halewood, has special deals on bubbly – ideal with the party season coming up – and other products. You can order online, and there's free delivery for orders worth over RON 200. The store stocks the entire range of wines produced by Romanian Halewood and another 179 imported wines – from Uruguayan Pisano and South African Simonsig to famous French producers like Hugel & Fils, Lupé Cholet and Gerard Bertrand. In addition to wines, the store also sells beer and liquors – for some Christmas flavor, you can choose ginger beer or cider. Online orders at www.winery-outlet.com
oana.vasiliu@business-review.ro