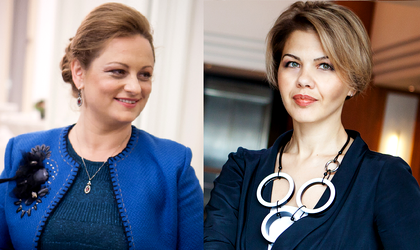 Loredana Preda, CEO at Galeriile Noblesse, and Sonia Nastase, country business manager at Nespresso, tell Business Review about the importance of the professional life for everyone and how to be effective and get noticeable results in the workplace.
Why is work so important to so many of us?
LP: Work defines us first of all as human beings. It is an important component of what we really are, not only professionally speaking, but also personally, in terms of passions, studies, abilities and knowledge. Today it is quite impossible to define someone as a person without making reference to their job. Most of us are active people and our society is based on that. We spend more than 60 percent of our active time on our job for various reasons: financial needs, lifestyle and passion for our work. Our social environment, composed of family, friends and partners, is also built around the job.
SN: There is a saying in which I strongly believe: "Hard work keeps the wrinkles out of the mind and spirit." We are at the same time defined and trapped by work. We seek constant challenges and put our personal selves at stake. Working becomes more than a matter of possession, but a dynamic arena where we lend our soul, vision and passion. And "breathing" the business you lead – Nespresso, in my case – is the most wonderful "light path" to full contentment.
Do we define ourselves by what we do?
LP: This is the ideal and everybody should target this. It is hard to split the values and skills required in job from those that represent the person. If there is a difference between these two aspects, that person should definitely reconsider his or her actions and life choices.
SN: In my opinion, work is the most relevant signature of human individual quality. It brings to light not only technical professional abilities, but personal ones, too. For example, high-level business leadership demands, primarily, exceptional human values, an empathetic nature and a visionary mind. Moreover, it has to be perfectly aligned, from a personal point of view, with the spirit of the business – passion, simplicity, perfection, aesthetics and refinement form my conception of the Nespresso business.
How important is it to do what you like in order to make your job/work more effective?
LP: It is very important in life to choose a job you like. There is a Chinese saying: if in life you do what you like, then you never work. So, your job is not an obligation or a chore, but becomes the accomplishment of your dreams and passions. Professional triumph also improves your personal life and it is a strong motivation in all other aspects of life. Of course, we have the opposite when poor performance affects our personal life.
Some theories recommend keeping the professional and the personal totally separate. But I believe that the two aspects intersect and communicate with one another if you are really passionate about your job.
SN: I strongly believe that "passion" is efficiency's second name. With the hospitality industry, in which I have been working for 17 years, in mind, I don't think you can do efficient things cold heartedly; there is no "technically perfect" piece of work when you dedicate your activity to customer satisfaction. Whether it involves creating an exceptional coffee experience or the perfect fine dining picture, you have to put mastery into it. And mastery comes from passion and long-term, ongoing practice.
What should you do to be as good as possible at your job?
LP: To be effective in your job means getting noticeable results which contribute to your team and company success. Performance is measurable through results and is based on a multitude of factors: dedication, skills, abilities. For me these words have a special meaning: "the right person in the right place". To be effective it is not enough to have passion and top skills, you must fit with the culture and values of your company.
SN: Firstly, as a business leader, you have to choose your team wisely and strategically orchestrate its activity by assigning complementary roles.
Secondly and more specifically, as Nespresso country manager, I seek efficiency in every component of my activity, derived from our unique business model. It is a very young (29 years old) entrepreneurially-designed company, which means that I have to listen to employees, customers, press and any individual that has a concern regarding the Nespresso brand, and later, convert the listening part into prompt action.
How can you choose your job/professional path to be sure you will like it and perform as well as you can?
LP: Choosing a job is one of our most important decisions. For some it means the accomplishment of a childhood dream; for others it means a long and continuous search that can last much of a lifetime. In my case, it was quite easy: I've always wanted to be a leader, to become a successful businesswoman, so all my professional studies, guided at the beginning by my parents, were in the field of business management.
But the real challenge for me was to find a field I was really passionate about in which to manage and to lead, and after six years of work, I discovered my deep passion for interior design. As a final piece of advice, I think everybody should do what they really like, to find that special thing, no matter how hard or how many sacrifices they have to make.
SN: Understand what you like and be good at it. Try, fail, try again, go further.
Sometimes, a clear professional path comes by grace, but, mostly, it is the result of hard work and passion. My years of experience in the hospitality field have taught me – both by grace and practice – that there is no easy route to mastery, but a sustained one with great empathy towards customers and partners. And my life credo remains a useful piece of advice: The best is yet to come!