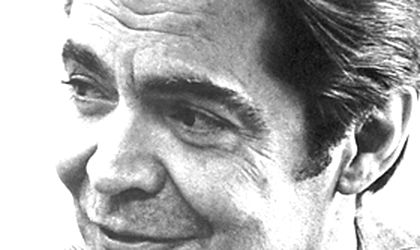 The Romanian Central Bank (BNR) has issued a RON 10 silver coin marked with the profile of the Romanian cellular biologist George Emil Palade, to celebrate his 100 anniversary. The obverse of the coin presents the Coltea Hospital building, where the physician worked during his medical internship.
The circulation of this numismatic series is of 500 coins. They can be bought from the subsidiaries of BNR in Bucharest, Iasi, Timisoara and Cluj. The price of one silver coin is RON 360.
The coin has the following characteristics:
Face value: lei 10
Metal: silver
Fineness: 999‰
Shape: round
Diameter: 37 mm
Weight: 31.103 g
Quality: proof
Edge: milled
Obverse
: the image of Colțea Hospital's building, where George Emil Palade worked as an intern, as well as a composition suggesting the researcher's scientific activity; the year of issue "2012", Romania's coat of arms, the inscription "Romania" and the face value "10 lei".
Reverse
: in front, the portrait of scientist George Emil Palade and on the background a composition symbolising cell biology; on the outer ring, the inscription "George Emil Palade" and his birth and death years "1912-2008" in an arc.
George Emil Palade was a Romanian cellular biologist, described as "the most influential cellular biologist ever". In 1974, he was awarded the Nobel Prize in Physiology and Medicine, together with Albert Claude and Christian de Duve. The prize was granted for his innovations in electron microscopy and cell fraction, which together laid the foundations of modern molecular cell biology. The most notable discovery was the ribosome of the endoplasmic reticulum – which he first described in 1955. Palade also received the U.S. National Medal of Science in Biological Sciences for "pioneering discoveries of a host of fundamental, highly organized structures in living cells" in 1986, and was previously elected a Member of the US National Academy of Science in 1961.
Photo courtesy of Nobel Prize website
Oana Vasiliu