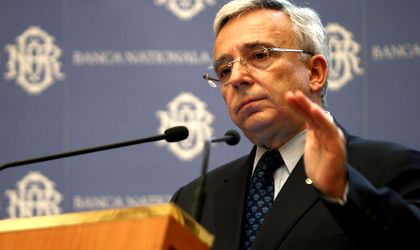 Setting an ambitious term like adhering to the European Union in 2019 could have positive effects on the economy, such as mobilizing society, but it also requires politicians to understand what efforts it entails, according to Mugur Isarescu, BNR's governor.
"Setting the objective is a political issue, it is not just up to BNR. We can contribute with materials, which is a political decision. Our stand is that we need a stronger political consensus (…) personally I have nothing against ambitious targets, on the contrary, but they are welcomed only if they can mobilize and not discourage a country, a people" says Mugur Isarescu.
"On 2018-2019, I think it's not out of the realm of possibility, but it's good if we anchor ourselves to this objective and set some intermediary deadlines, because it won't happen just like that… on January 1 2019 somebody comes with a magic wand and there, you are now in the eurozone. (…) there's a certain symbolism to the objective and I am not against symbolism", Isarescu commented.
 Romania sends official word to the European Commission: We WILL adopt the euro in 2019
Isarescu on excessive fiscality
One of the obstacles that Romania will have to deal with on its road to European integration is the faulty fiscal system and excessive bureacuracy. Mugur Isarescu believes that fiscal responsibilities are higher now than they are two years ago and it represents a heavy burden for private companies.
"I haven't changed my opinion that it is a though thing to do business in Romania. I think it's even togher now. In a single quarter we paid ROL 3 billion to the state. That is too much, maybe it is just a point of view and I am subjective. But still", Isarescu complained.
The governor believes that by relaxing fiscal policies the gray economy will come to light, including part of the labor market for undocumented workers, which will have an overal positive effect on the budget like in 2000 when the profit tax was cutback from 40 percent to 25 percent.