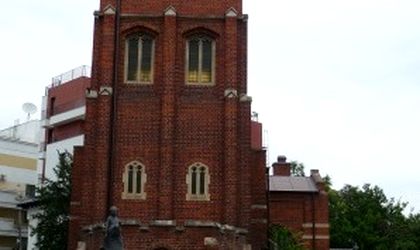 The Church of the Resurrection Bucharest will celebrate one hundred years since the foundation stone was laid in 1913 on October 20.  As the First World War intervened the church was not actually completed and dedicated until 1922.
Since then the Church has maintained continuous worship except for the period when Bucharest was occupied by the Germans in the period 1941 to 1944.  This has been done with the appointment of full time priests when possible and lay led worship as necessary.  The Church in Bucharest is part of the Diocese of Europe and is under the supervision of the Archdeacon for Central Europe based in Vienna.
As part of the celebration of the laying of the foundation stone the Church will be holding a celebratory Eucharist led by Bishop Flack, appointed by the Bishop of Gibraltar, on the 20th October at 10.00 a.m. in the presence of the British Ambassador and it is hoped that many English speaking people will attend to celebrate this milestone in the history of the Church, Bucharest and Romania.
Oana Vasiliu