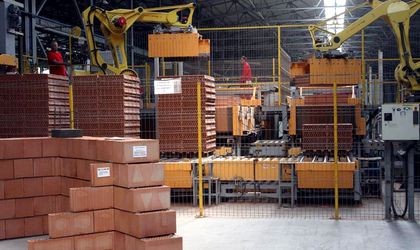 Three months after the completion of the financial restructuring, manufacturer of ceramic blocks Cemacon reported a net profit of RON 11.6 million (EUR 2.63 million) in the first half of 2015, according to company data.
The company recorded in the first six months of an increase of 23 percent in turnover over the same period last year, to RON 36 million (EUR 8.16 million), outpacing the market dynamics. Compared to the end of June 2011, the beginning year of business restructuring, the company has a 240 percent increase in turnover.
After opening a production line in Zalau, Cemacon now operates two production facilities, which have a 90 percent degree of utilization, bringing a 33 percent increase in the volumes produced in the first half of 2015. In the same period, the company sold 38 percent more in terms of net revenues from the sale of brick against the same period last year.
The signing of new credit contracts in March and a debt conversion into shares of RON 58 million (EUR 13.15 million) completed Cemacon's plans of debt restructuring, a process resulting in the company's bank debt being reduced from over EUR 33 million to EUR 13 million, phased over nine years. In 2011, when the restructuring negotiations started, Cemacon had a turnover of EUR 5 million, increasing to EUR 13.5 million in 2014.
As a last component of the restructuring agreed with the financing bank, the capital increase operation was carried out between May 29 and July 10 2015. During the first stage of the public auction, shares were offered for subscription to all shareholders at a price of RON 1.5 per share and a subscription to 100 shares was done. In stage II, the shares were offered for subscription to investors at a subscription price of RON 1.8 per share. The total value of the offer is RON 58 million, of which RON 3.1 million as part of the capital, and the difference of RON 54.8 million as share premium.
The company projects an increase in turnover of 35 percent and plans to reach an 18 percent market share by the end of the year.
Cemacon SA is the second largest manufacturer of ceramic masonry systems in Romania. The company is listed on BVB and held mainly by institutional shareholders, Romanian and foreign investment funds.
Natalia Martian