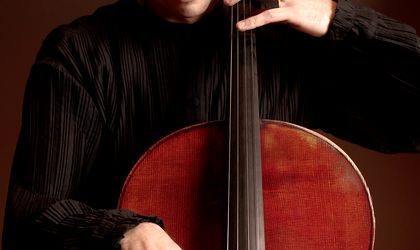 More than 10,000 classical music lovers in eight cities nationwide have had the chance to attend the Do You Like…? tours of Razvan Suma. This year, the cellist will perform Brahms before Romanian audiences, in a series of concerts around the country with Spanish pianist Josu Okinena.
By Oana Vasiliu
What new elements will the third Do You Like… tour contain?
From the two tours of last year, Do you like Bach?, to this fall's tour dedicated to Brahms, we are talking about a huge expressive jump from the Baroque to the Romantic period. It's hard to say that after nearly 200 years, you as an artist can come up with something new. It is an accessible repertoire for all audiences, a major leap from a solo cello tour to a duo sound. We have been putting together the repertoire since last year in Spain in order to find as many positive answers to the question, "Do you like Brahms?"
Is Brahms still relevant?
Brahms is definitely one of the international classical music evergreens. There is a tendency to promote modern or contemporary music, and it is very natural and useful in our evolution as musicians and also for the public to hear this genre. Every time we go back to Brahms it is like a wound healing. Whatever you listen to – Lieder, sonatas, symphonies, chamber music – you have the same good feeling. Brahms remains important for his talent and professionalism. It is hard to find a better musician than him. Even these sonatas for cello and piano inspire in you a full orchestra, an army of voices, which by the magic of Brahms takes you into another atmosphere. This is extremely beneficial given our current lifestyle.
How did you convince Josu Okinena to take part in Do You Like Brahms?
With Josu I have had the most stable and long-lasting professional relationship of my artistic life. I thought that a decade of playing together should be celebrated properly. It is not just a random collaboration; we were singing together ten years ago and we have worked together every year since then. We have done repeated tours in Spain, Romania, the Canary Islands and Argentina. The beauty of this partnership is our flexible approach to music, even when we are talking about Brahms's German strictness. With Josu on stage, the music comes naturally from me.
What is the story of your cello?
For us performers, our instruments are life partners. There are musicians who have played the same instrument for their entire life, and this is impressive. The relationship between us and the instrument is very strong. But we must remember that the generosity of the instrument is much greater than ours. Musical instruments give themselves to musicians throughout their entire lives, and this generosity has to be returned through enormous concern for these tools so future generations of musicians can enjoy them in good condition.
The life of the Adolph Maucotel cello that I use started in 1849 and it has definitely changed about five performers so far. One of them was the famous cellist Pierre Fournier, one of my favorites from the old school. It may seem crazy, but these pieces of wood have life in them. An instrument's sound begins to fail if it is left without being played, and when you "exploit" it, it gives you the maximum. If you owe it some hours of study, it is the first to blow the whistle, through a language that both musician and the instrument understand perfectly – they cannot lie to each other.