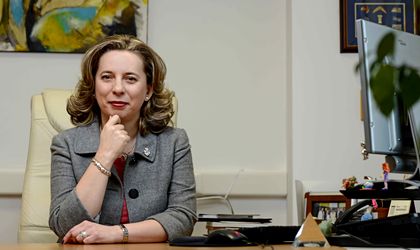 In honor of Women's Day (March 8), Business Review puts the spotlight on successful Romanian women in business. What makes them tick, what are some of their management secrets and what insight can they share with young women that are just starting out in the world of business.
Today we are talking with  Iulia Gabriela Nartea Managing Director, UPS Romania, Greece, Hungary.

How did you choose your career?
Part of choosing my career was figuring out what really interests me. As a teen, I was interested in numbers, mathematic and intensive reading where from I got high interest to know the world, travel and interact with people. Even my education is in finance and accounting, starting to work in freight industry for Romtrans brought me to right place to make my dreams reality.
How would you describe your management style / work ethic?
In 1907, Jim E. Casey, a very motivated and innovative man, borrowed 100 dollars from a friend and started a Seattle based private messenger and delivery services firm. From there his small firm turned into one of the largest package delivery companies in the world. Now, UPS is a global package delivery business specialized in managing the movement of goods and also into the information and funds that moves with those goods in more than 220 countries and territories worldwide.
This legacy shows me that leadership endures and that long term business performance comes from leadership culture and continuous development of people at all levels. These are my management principles. As my colleagues from all over the world, I try to provide responsible, ethical business behavior and manage business to achieve and maintain compliance with all applicable regulations and policies for all aspects of UPS business. Most of my interest is focused into people and communities, people being the most valuable resource of our organization and social responsibility is one of our high-level priorities.
How do you manage to balance your professional life with your personal one?
I realized in time that both my career and personal life are as important to my life. You cannot be a good leader without being satisfied with your personal life. Of course there are times in which my professional life requires all my attention, but this not prevents me to spend a well-deserved time with loved ones in reward.
What are some of the biggest female role models in your life or some of the women that inspired you the most?
Coco Chanel, Audrey Hepburn, Queen Victoria, Margaret Thatcher, some of the names of famous women that I appreciate. I admire something to each of them and I am inspired by certain traits such as: courage, confidence, innovation, vision, responsibility and candor. Each of them did something new and left clear traces behind. I create the model of what I appreciate most to each of them.
Have there ever been moments in your career where you were underestimated and if so, how did you react?
I think all women have experienced some kind of preconceptions or prejudices at some point in their life. This happened to me too. But in general I succeed to build a positive environment for my career development. Being yourself always was one of my keys for success. I am not afraid of confrontation and I am ready to take any if situation requires. Honesty and fairness are two traits that have helped me.
What is your advice for women in Romania that want to start a business or are at the beginning of their careers?
They should stay focus on themselves and have self-confidence in the ability to perform well. They should be in touch with other women having the same or other challenges as they are experiencing in their work-life. It is very important to build strong and honest relationships with their colleagues and work partners and learning from them is important too.